You Heard It Here: Happiness is…beer.
I'll be honest. It's been one of those days, weeks, months. Honestly, I never had anything against 2016 and I still don't, but I have to admit it's been a pretty rough start to the year. I still count my blessings and I still look for the positive, but right at the moment, happiness is an ice cold beer.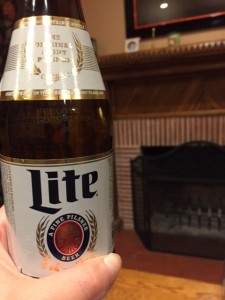 I'm missing my daughter who went back to college after her winter break and I'm mourning the loss of so many incredible musicians and entertainers who have died in the last couple of weeks. I swear it was like some kind of crazy magical hell storm happened and started taking all the best people. So tonight I'm indulging in something I haven't had all month because of a stomach bug. (Yes, that started in the new year too!)
I also started a new workout challenge last night so I figured I'd toast my re-entry back into the world of "healthy-writer" with my favorite lite beer. Really… sometimes there's just nothing better that hits the spot like a cold beer. And maybe chocolate. (Yeah, I confess, I had that earlier too. I'm telling you… it's been one of those days.)
What about you? What's your happiness?