Happy Fall 2018!
Hope everyone's season change has been a good one so far. Personally, I'm looking forward to Saturday, October 6th and the InD'Scribe Con and Book Festival book signing. This is my last book signing for the foreseeable future so I'll have all my print books available.
But that's not all! Those who purchase my latest release, Under the Radar, will also get a very cool perk by way of this awesome flash drive – thanks to USB Memory Direct!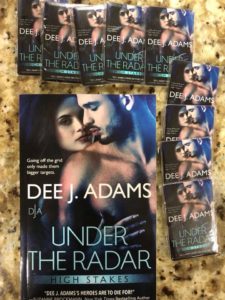 Those cute little cards around book are actually flash drives and they're almost as thin as business cards. The drive flips out from the card. They are the coolest, handiest little things! Love them! That's not all… They also hold a deleted scene from Under the Radar.
(FYI – I still have a few flash drives left over from Out of the Blue so you have a couple of chances to score swag with the purchase of either book!)
Hope to see some of you at the conference books signing! There'll be lots of amazing authors signing their books so carve out some time on October 6th! The info is below, but I have a quick question for you: We all love free stuff, but… What's been your most favorite type of swag or freebie from any event you've been to?
Burbank Marriott Hotel and Convention Center
2500 N. Hollywood Way, Burbank, CA. 91505
1:30 pm – 5:00 pm