Out of the Blue Release Day!
Today is the day! Out of the Blue is out of the gate!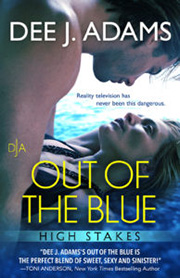 Amazon | Nook | iTunes | Kobo | ARe
Today has special meaning, besides it being the release of my tenth book. My mom would've been 85 years old today and I think she'd be pretty happy that this milestone is happening on her birthday. I'll be honest, I felt a bit obligated to honor my mom since I honored my dad on his birthday with the release of Imminent Danger (five months after he died) in 2014.
Writing wasn't anywhere on my radar when my mom was alive and I always wonder what she'd think of one of my books. I know my dad read my very first book (still not published) and asked, "Where'd you learn this stuff?" I still smile thinking about the twinkle in his eyes when he hit me with that question. I don't think he read beyond that first book, but he always supported me. Every so often I'd get a small note in the mail attached to something pertaining to writing. One time he sent a full page magazine ad for Harlequin. He'd clipped out the page (a couple in the kitchen about to get down to business on the granite island while the batter waits in a bowl and her hands are full of flour.) It was a very sexy picture of two clothed adults, but the intention is clear as he takes her down, their lips almost touching, but not quite. I still shiver when I think of it. (In a good way.) Dad's note said, "I saw this and thought of you." A definite 'AW' moment for me. Though my dad was still alive when my first published book came out, I don't think he read it. Alzheimer's had pretty much robbed him of his memory and he stuck to reading short articles because he couldn't remember a story in pieces.
Back to my mom… She always had a book on her night stand table. She loved to read at the end of the day and I guess I got that gene from her. I remember the first time I took one of her books after she'd finished (but before she gave it to a friend). I was probably 15 or 16 years old. The book might have been a Judith McNaught, I'm not sure. I just remember Mom walking by, seeing what I was reading and saying, "Do you like that?" I think it probably had a sex scene or two and I eagerly shook my head. LOL. I loved her for not taking the book out of my hands.
Thanks Mom for letting me read and fostering a love of books that I've had since.
Sometimes I wonder if God-or whatever spiritual power rules-is able to get books for those who've gone onto another plane. I know. Kind of a dumb thought, but with the release of this book, I'm feeling especially sentimental.
Happy Birthday, Mom and Happy Book Birthday to Out of the Blue!
In case you haven't read it yet, here's the blurb:
Recently dumped by her fiancé, Casey Turner is going for her dream career. Rebound sex with a hot stranger was eye opening, but she wants to leave her mark on the world. She's sure that winning the new reality show Write Your Ticket will prove that she's got what it takes to make it in the music industry. She never expects to be the target of a killer who'll stop at nothing to see her die, even if it's on national television.
Brendan St. John didn't think he'd ever see the girl who disappeared after a sizzling one-night stand, but he won't let her distract him from winning the reality show that could change his life. Of course, it'd be easier to ignore her if he didn't have to keep saving her from disasters. But too many accidents on the set can't be coincidence, and when Brendan interferes, Casey isn't the only one in danger.
Despite being pitted against each other, Casey and Brendan grow closer, and the attraction that brought them together burns hotter with every look. Ultimately, only one of them can win the show, but that doesn't stop either from being the target of someone with a mighty grudge.
If I still have your attention, and you want to get an instant taste of Out of the Blue, you can read a scene that I regretfully cut from the book. Click HERE.
AND… in case you weren't aware of it, Brendan's twin brother (Blake) already has his own story in Imminent Danger, one of my Adrenaline Highs books. (Blake was my first cross-over character.)
Since it's that time of year as well… Happy Thanksgiving to all! Hope your holiday is filled with light and love.