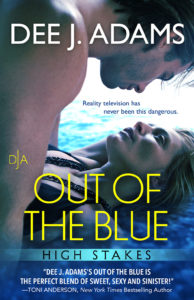 Reality television has never been this dangerous.
Recently dumped by her fiancé, Casey Turner is going for her dream career. Rebound sex with a hot stranger was eye opening, but she wants to leave her mark on the world. She's sure that winning the new reality show Write Your Ticket will prove that she's got what it takes to make it in the music industry. She never expects to be the target of a killer who'll stop at nothing to see her die, even if it's on national television.
Brendan St. John didn't think he'd ever see the girl who disappeared after a sizzling one-night stand, but he won't let her distract him from winning the reality show that could change his life. Of course, it'd be easier to ignore her if he didn't have to keep saving her from disasters. But too many accidents on the set can't be coincidence, and when Brendan interferes, Casey isn't the only one in danger.
Despite being pitted against each other, Casey and Brendan grow closer, and the attraction that brought them together burns hotter with every look. Ultimately, only one of them can win the show, but that doesn't stop either from being the target of someone with a mighty grudge.