Read what reviewers are saying about Imminent Danger!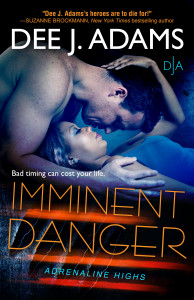 For Abbey Washington, dancing is more than a dream, it's a way to forget her past. But being at the wrong place at the wrong time makes her the sole witness to a stabbing and brings back horrible memories. Since the killers saw her just as clearly as she saw them, Abbey is now a loose end that needs to be tied up.
Blake St. John is working toward his PI license and hopes to find the man who hurt his brother in a kidnapping. He quit chasing his quiet co-worker, Abbey, months ago. But now that she needs protection, he takes on the role of bodyguard and all the feelings he tried to bury for her come back with a vengeance.
Abbey's past makes it hard to trust and an attempt on her life forces her to realize that time is running out as the killers get closer. Now, she must risk it all or face a life without the one man who showed her how to love.
Countdown to Imminent Danger!
The Imminent Danger Blog Tour stops:
8/11 – Not Your Usual Suspects
8/12 – Night Owl Romance
8/12 – Under the Covers
8/13 – You Gotta Read
8/14 – Cocktails and Books
8/15 – RomCon
8/18 – The Book Vixen
8/19 – Fallen Angel Reviews
8/20 – Just Romantic Suspense
8/20 – Dee J. Adams Blog