You Heard It Here: Hollywood Birthdays!
This month's Hollywood inside scoop is about cake. Birthday cake to be specific. And who doesn't like birthday cake? No one on our set, I can tell you that! As you'll see from the pictures below, we have a theme at work when it comes to celebrating birthdays. It involves a rolling table, candles, balloons, lots of posing for pictures and delicious cake. The first birthday celebration took place in October, but because we were on our hiatus, we celebrated Kira's day when we got back to the set. Eighteen is not a milestone to be taken lightly! Here's our cast in the living room set.
The next flurry of birthdays all happened in December and Diego started off the celebration early in the month. Here's the gang again, this time in wardrobe in front of a live audience.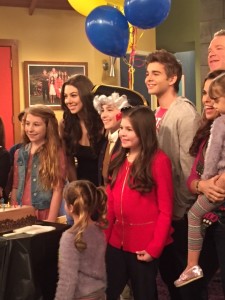 The following week, we pulled out another cake for Jack's 19th birthday.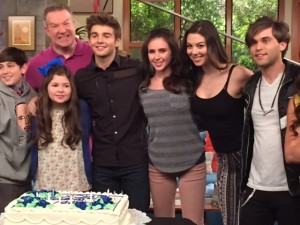 And a week after that we celebrated Rosa's birthday along with one of our Nick executives, Brian.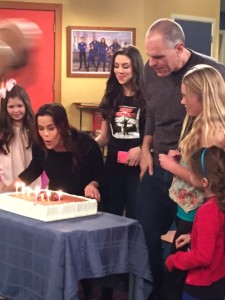 Here's Addison's birthday celebration in January. The picture I didn't get was of lots of Nickelodeon kids who came to set to celebrate. This pic was also taken in front of a live audience and the crowd loves to be on the fun stuff. Let me tell you… It was loud! Haha. But we have amazing fans and it's great to hear how much they appreciate the show.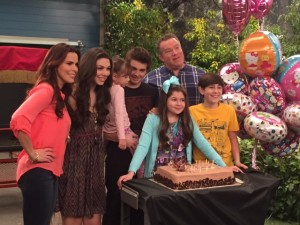 I'm feeling a little guilty because I've missed one cast member, but Chris had his B-day in September (as did I!) and we were on hiatus then too. Imagine a cake on a table with candles and balloons and the cast posing for pictures. Haha.
I think most sets I've been on have celebrated cast birthdays the same way. It's a nice way to bring everyone together and it bonds us like the family we are. We are a very lucky group of people and I think we all realize it. There's nothing quite like a Hollywood birthday.
How about you? Any special birthday celebrations that you've had over the years? Maybe a surprise or two?