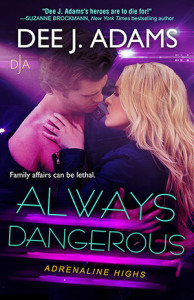 Read what reviewers are saying about Always Dangerous:
Under the Covers Book Blog – 4 stars
Lost in Books – 5 stars
Jo&Isalovesbooks – 4 stars
Leo Frost has lost his house, his car and possibly his acting career. Releasing an independent film is his only hope of paying for his sister's twenty-four/seven care, but he's got to finish it first. The last thing he needs is a curveball from the one woman who could break his focus with a look, a smile and the most unexpected news of his life.
Kim Jacobs wants it all—a career in a big city, a husband and a family, but a tryst two months ago with one of Hollywood's biggest stars leaves her pregnant. Knowing Leo doesn't want kids or a wife, Kim decides to make her own happily-ever-after with the help of a recent inheritance. All that's left is to tell the man and move on.
Kim's short visit to L.A. turns deadly with a series of mysterious attempts on her life. Suddenly Leo not only has to save his career, he has to find out who's trying to murder the lady who is stealing his heart. As an actor, danger was staged and nothing was at stake, but now the threats are all too real. If Leo wants a future and a family with Kim, he has to prove he can do more than play a hero onscreen, he has to be one in real life.
Blog Tour Dates:
10/6 – Dirty Girl Romance
10/7 – Under the Covers
10/7 – Not Your Usual Suspects
10/9 – Shelf Pleasure
10/9 – Just Romantic Suspense