Welcome to my Website!
      I'm glad you stopped in! Check out my place! You can sign up for my newsletter HERE and be the first to get the latest info on my new releases. As soon as there is news, you'll hear about it here. You can also check out the events page for appearances or workshops.
Under the Radar is here! The last book in the High Stakes series.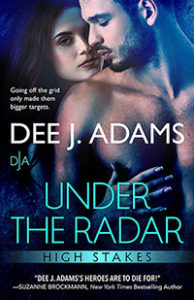 Two brothers. Two best friends. One robbery gone wrong.
With a court date looming, a near-fatal car accident, and a house invasion, the four surviving witnesses to an armed robbery know they are targets. In a desperate attempt to stay safe, they take matters into their own hands and go off the grid a week before the trial.
Danny St. John was stuck in a dark place of guilt and regret after a personal tragedy. On the run from violent criminals, he is forced to spend time with the one woman who makes him feel too much. Victoria Lopez needs to protect her heart, but she also misses the guy Danny used to be and thinks she might be able to bring him back. Now, evading gunmen together in Sequoia National Forest, Vic will risk everything to keep Danny safe.
Eric St. John isn't a big fan of his sister-in-law-to-be, Zoe Turner. Sure, she's beautiful, but also bossy and brash. When Eric and Zoe are forced to rely on each other for survival, he sees a side to Zoe he never anticipated, a side he definitely likes. But as the two grow closer, so do the men hunting them down.
Time nearly runs out as each couple must not only brave the perils of the wilderness and their growing feelings for each other, but also outwit their pursuers in a deadly game of cat and mouse.
Under the Radar is available now!
Subscribe to my newsletter by clicking HERE.
This little book below is my deviating from the norm, but head's up because Overheard on the Set Volume 2 is in the works!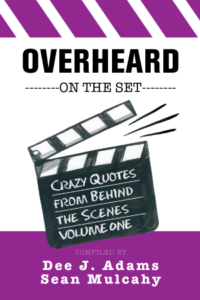 Overheard on the Set: Crazy Quotes from Behind the Scenes.
Ever wanted to be a fly on the wall during production of a sitcom? Ever wanted to know just what goes into making television? Overheard on the Set is a behind the scenes glance at what really happens on set before and during production.
We warn you. Sometimes it isn't pretty. And sometimes it's so funny you can't help but laugh. Overheard on the Set. You won't believe your ears.
Available now!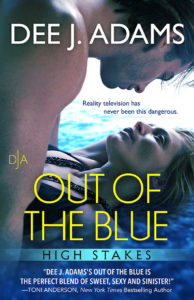 Reality television has never been this dangerous.
Recently dumped by her fiancé, Casey Turner is going for her dream career. Rebound sex with a hot stranger was eye opening, but she wants to leave her mark on the world. She's sure that winning the new reality show Write Your Ticket will prove that she's got what it takes to make it in the music industry. She never expects to be the target of a killer who'll stop at nothing to see her die, even if it's on national television.
Brendan St. John didn't think he'd ever see the girl who disappeared after a sizzling one-night stand, but he won't let her distract him from winning the reality show that could change his life. Of course, it'd be easier to ignore her if he didn't have to keep saving her from disasters. But too many accidents on the set can't be coincidence, and when Brendan interferes, Casey isn't the only one in danger.
Despite being pitted against each other, Casey and Brendan grow closer, and the attraction that brought them together burns hotter with every look. Ultimately, only one of them can win the show, but that doesn't stop either from being the target of someone with a mighty grudge.
If you're interested in reading the deleted scene from Out of the Blue, head on over to my blog November 21st and find the link. (It's a little steamy…)
********
Always Dangerous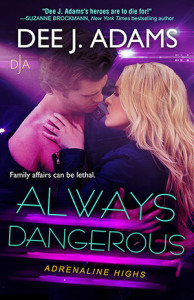 Family affairs can be lethal.
Leo Frost has lost his house, his car and possibly his acting career. Releasing an independent film is his only hope of paying for his sister's twenty-four/seven care, but he's got to finish it first. The last thing he needs is a curveball from the one woman who could break his focus with a look, a smile and the most unexpected news of his life.
Kim Jacobs wants it all—a career in a big city, a husband and a family, but a tryst two months ago with one of Hollywood's biggest stars leaves her pregnant. Knowing Leo doesn't want kids or a wife, Kim decides to make her own happily-ever-after with the help of a recent inheritance. All that's left is to tell the man and move on.
Kim's short visit to L.A. turns deadly with a series of mysterious attempts on her life. Suddenly Leo not only has to save his career, he has to find out who's trying to murder the lady who is stealing his heart. As an actor, danger was staged and nothing was at stake, but now the threats are all too real. If Leo wants a future and a family with Kim, he has to prove he can do more than play a hero onscreen, he has to be one in real life.
Click for the countdown.
A little novella with a lot of love…
A Little Danger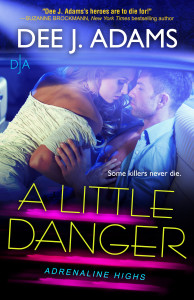 Some killers never die.
Elena Fraser is on her way to the airport to catch a flight to New York for the premiere of her daughter's movie. Before limo driver Bill "Fido" Fidelo can make it to the freeway, a 7.1 earthquake collapses the overpass above and traps them. With nothing but time between frightening temblors, Elena and Bill learn more about each other, including the fact they've lusted after each other for years.
Understanding they might not survive, Elena and Bill look to one another for solace and companionship. Bill tries to convince Elena that their seven-year age difference means nothing to him, and Elena soon realizes that life is too short to put off living.
The passion they discover is enough to torch the limo they're trapped in, but can rescuers save them in time, or will a final aftershock bury them before they have a chance to build a life together?
Click HERE for the countdown!
Over the Top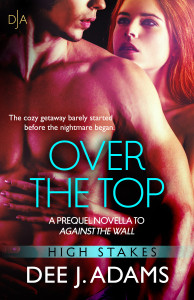 The cozy getaway barely started before the nightmare began.
Terry's dreams sometimes come true. The trouble is, this time she's had a nightmare—her fiancé, Jay, dead, their young daughter kidnapped. When events eerily unfold just like in her dream, Terry's sense of déjà vu increases. Terrified, she realizes she has to change the course of events, or her life will become a nightmare for real.
It took two years to get Terry to say yes to his marriage proposal, and just as they are set to celebrate their engagement, Terry reveals the secret she's been keeping from Jay for years. Her lack of trust cuts him deep and leaves him wondering if they can make a marriage work. But when someone seeks to destroy their family, Jay and Terry will do anything to stay together.
This is a prequel novella for Against the Wall.
The next best part is the price. 99 cents!
Imminent Danger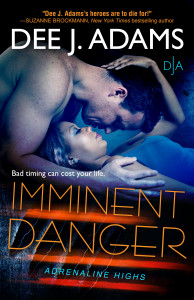 For Abbey Washington, dancing is more than a dream, it's a way to forget her past. But being at the wrong place at the wrong time makes her the sole witness to a stabbing and brings back horrible memories. Since the killers saw her just as clearly as she saw them, Abbey is now a loose end that needs to be tied up.
Blake St. John is working toward his PI license and hopes to find the man who hurt his brother in a kidnapping. He quit chasing his quiet co-worker, Abbey, months ago. But now that she needs protection, he takes on the role of bodyguard and all the feelings he tried to bury for her come back with a vengeance.
Abbey's past makes it hard to trust and an attempt on her life forces her to realize that time is running out as the killers get closer. Now, she must risk it all or face a life without the one man who showed her how to love.
Click here for the Countdown!
Great news! Living Dangerously won the Gayle Wilson Award of Excellence!
Against The Wall
"An action-packed and pulse-pounding read!"
—- Tracy at One Good Book Deserves Another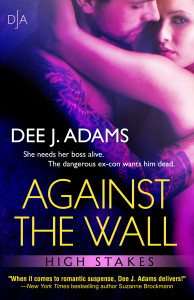 Amazon | Barnes & Noble | iTunes | Kobo
The print version is also available at Amazon & CreateSpace!
Click here for the Against The Wall countdown and blurb/excerpt.
Danger Zone is a winner in the JABBIC Contest! Both Readers Choice and Grand Prize!
Dangerously Close takes second place!


Dangerously Close!