This month's happiness is two-fold! First it's going to San Antonio for the Romance Writers of America National Convention. I can't wait to see pals Suzanne Brockmann and Holly Jacobs and tons of other writing buddies I haven't seen in over a year! (I guess I should add that unfortunately Suz had to cancel, so Holly and my other pals will be receiving extra love that had been intended for her! My thoughts and prayers are with Suz and Little Joe! Here's to a speedy recovery for a sweet pooch!)
And of course (you had to know this was coming), Imminent Danger is only 15 days away! I can't wait for it to be out! And you may be sick of this cover, but I never will be so I'm posting it. Yes. Again.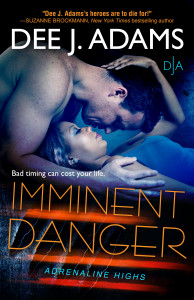 The giveaway at Goodreads is still happening so you have time to enter!
I also want to give a shout out to my critique partner, Kate Willoughby on the release of Across the Line, the second book in her In The Zone series. You don't have to be a hockey fan to love this series, but if you are, then even better! Check her out! I think you'll be glad you did!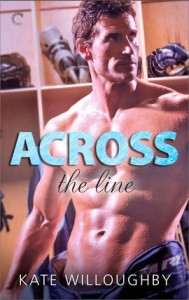 (I mean seriously… This cover is drool-worthy!)
Not done yet… In one more week, I have another surprise coming! Happiness abounds! So tell me…what's your happiness this month?