You Heard It Here: Did I Really Just Do That?
How did it get to be August 1st? This year is zipping by! The best thing about August is the release of Imminent Danger in just a few days! (Who knows… if you keep your eyes open it might even come up a little early!) Oh, but wait… I'm stalling!
This month's story is one of my most embarrassing. I was reminded of it when a pal of mine commented on my FB page that he saw a certain guest star on Roseanne (uhm, yes, he meant me) about a week ago. (In the 4 years I worked on the show I appeared in 3 episodes. A restaurant customer, a nurse and a bar flousy – that last might have been my favorite!) Anyway… I remember being so nervous that I totally jumped my line. Actually, I guess you could say I jumped John Goodman's line. He and Roseanne had a scene at the bar and I – as the customer – raise my hand and interrupt their conversation since I haven't been served yet.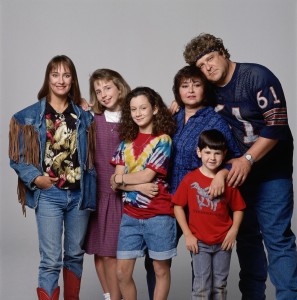 I was so nervous and scared to get it right, that I totally started my line before John finished his. The director called cut and we had to start over again. Yes, I was mortified. It wasn't like it was that big of a deal, but you never want to screw up the leading actors of a hit sitcom. Anyway… <imagine flop sweat here!> We started the scene again and this time I made sure that John finished his line before I said mine. The scene went a little something like this:
Roseanne and Dan Connor are talking at the counter of the diner.
Customer is at table in the middle of the room: "Excuse me, miss… <raises hand> when you get a minute?"
Roseanne: "Yeah, you'll be the first to know." <she goes back to her conversation>
Classic Roseanne. I think we only shot 2 takes. Maybe 3. I don't really remember. I do remember that it was over pretty quickly. And I remember being worried that John was mad at me for jumping his line. But honestly… shit happens and I think he knew I was nervous. I chalked it up to a learning experience. Actors need to listen to react. After all…acting is REacting.
So that's it. What about you? What's your "Did I really just do that" story?