You Heard It Here: Gearing Up!
I can't speak for anyone but myself when I say I just can't wait until Imminent Danger is out!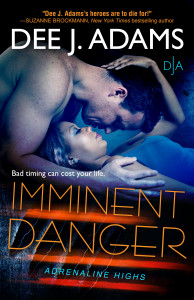 Man, I could stare at this cover for days. (In fact, it's possible I've done that already!)
I admit it's been way too long since I've released a book. Working in television is an absolute time suck. Don't get me wrong… I love my work. Actually, I love both my jobs! They just both take up a ton of time.
I know I'm not the only one out there with a busy schedule, but some days it doesn't matter. (Like on those thirteen and fourteen hour days on set that seem never-ending.) I always take my computer to the set in hopes of getting a few minutes of work done, but I've discovered it's almost impossible. The need to get outside and breathe fresh air for a few minutes (and get off the dark sound stage) pretty much trumps my desire to stay in the dark sound stage and work on my computer. Maybe that makes me a lazy writer, but honestly, I've given up berating myself for not fitting in work on those crazy long days. I figure if my soul needs sunlight and a chai latte then by God, my soul will get it. LOL.
Regardless of all that… I am gearing up for book #5  in the Adrenaline Highs and I hope you'll bear with my excitement for the next month or so because it's probably all I'll be talking/blogging about!
And speaking of blogs, I have quite the blog tour scheduled so I hope you'll stop in at one or two just to say hi and get a sneak at an excerpt or two!
I WOULD like to know that I'm not the only one who's crazed and crazy with multiple jobs that take up massive amounts of hours. Anyone else out there working a couple 14 hour days during the week or am I the only one?