You Heard It Here: Happiness Is
I guess you could say I'm a broken record when it comes to Happiness Is because I tend to fall back on family a lot of the time. Color me sentimental.
This month's "happiness is" revolves around the big family reunion I attended this past weekend in Dallas, Texas. My daughter took about a thousand pictures in a 24 hour period, but I thought I'd post the highlight. It's the "crazy" shot of us just before our dinner Saturday night.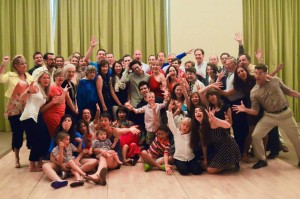 So, yes, this month, happiness is having a great family and managing to get together once or twice a decade to catch up with everyone, shut the bar down, and in general wreck a little havoc. Life is good. Just wish we had more like a week instead of a day to reconnect.
What about you? What's your happiness this month? Do you love family reunions or is your extended family a little on the nutty side? (Like mine!) Let me know!