You Heard It Here: It's Time
Sometimes I have no idea what I'm going to blog about until the last minute and this was one of those times. I had planned to save this post for next month and I still plan to give you an updated version (think: before and after), but for now, you'll get to see my latest joy.
After 23 years in the same house, my husband and I decided that now was the right time to remodel our 40 year old kitchen. Working in show-biz, we've learned to save for a rainy day (or possibly many rainy days), but we came to the conclusion that the time was right and we dove into making our dream kitchen.
I don't think I would've posted this today, except after working 13 hours on set and walking into a few beautiful new appliances in my almost finished beautiful new kitchen, I decided it was worth the blog time. Here's my new kitchen almost completed: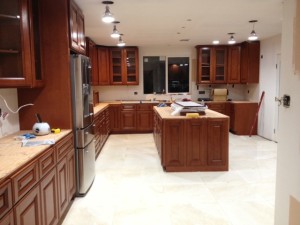 Do you see where the fridge begins on the left? That was the end of my old kitchen. It extended width-wise to about the end of the right side of the island. Basically the new space is about 2.5 x bigger than the old space. Did I mention the old kitchen was avocado green and had no room for a table and chairs? (True.) The new space has room for 3 or 4 stools at the island. (Did I also mention that I plan to sleep there when it's completely done? No, not forever! LOL. But for a night or two, just so I know it's real.) The granite counter top goes in tomorrow (that's plywood right now). Still needs molding and tile and paint and so on so next month you'll get to see the whole deal.
Hubby and I are very similar when it comes to saving for a rainy day and not overextending ourselves. Maybe that's why this kitchen was 23 years in the making. But can I tell you… it was worth the wait.
What about you? What did you do – or what happened – in your life that was past the time you needed to do it? Maybe a remodel or a delayed honeymoon. Could be anything. I'd love to know!