You Heard It Here: Old Time Hollywood
This month instead of a story, I thought I'd talk a little about old time Hollywood. Even though I've worked in the business for over 25 years, I can still get a little star struck sometimes. It doesn't happen often, but I have to admit to it occasionally. Mainly it happens when I meet someone who is vintage Hollywood. Someone with great stories about the old days. Someone who's seen it all and then some.
A week ago, I got very near old time Hollywood and the starstruck girl from Texas almost came out. It's funny when you think about it, because I've known this person (who is related to old time Hollywood) since 2008. But still, when I get to thinking about his history and family history, my starstruck roots starts spreading up. On August 19th, a friend of mine named David directed the kid's sitcom, "The Thundermans," where I'm currently working. (I'm not sure how many of you remember Dom Deluise, but he was a very funny character actor. He did a series of films with Burt Reynolds and I always enjoyed them. They were the perfect Mutt and Jeff. I never met Dom, but I was fortunate enough to work with his son David on (Disney's) "Wizards of Waverly Place."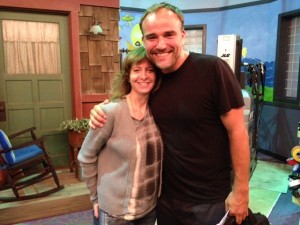 (Regarding this pic… I'm being brave since I look like crap. This was taken after 2 12 hour days. I was exhausted and I look it! Of course David looks great. Grrr…)
David's character, Jerry Russo, is father to Selena Gomez's character, Alex on Wizards of Waverly Place. I'd only worked with David before as an actor, so having him direct the show last week was a ton of fun. It was great seeing him in a different capacity. Of course, it's always fun to hear some of the stories about his father and growing up in Hollywood. The best part about David is he's such a nice guy and so funny. He has great timing and he's a cutie on top of it.
Anyway, like I said, I loved having the connection to old time Hollywood for a week and it's always fun to see old pals. It's a small town and if you work in it long enough you tend to see old friends popping up on occasion.
What about you guys? Does anyone get starstruck? Is there an old time actor or any actor that might make you speechless? Let me know!