You Heard It Here: The Tough Times
It dawned on me June 6 that I never posted my first of the month Hollywood story and I had a mini freak-out. I couldn't believe I missed a post. Then I remembered where I was and why I missed it.
People who frequent my FaceBook page know I've been dealing with a family emergency, but I've been a little cryptic. I've decided to come out and just talk about it because I know I'm not the only one going through this. My dad has Alzheimer's and my brother, sister and I decided it was time he receive more care so I took trip to Texas to facilitate a move.
My dad knew I belonged to him, but he didn't really understand how. He called my by his little brother's name all week. I was actually kind of glad he remembered that much. The hardest part about the whole thing was watching his confusion. When asked a question, he was unable to understand or answer it. He learned years ago to speak to people with generic responses so that they really didn't understand that he didn't understand what they were saying. (Of course, it doesn't help that my father is deaf, which takes understanding to a different level.)
I won't go into the details since they aren't happy or fun. Anyone who's dealt with a loved one with Alzheimer's understands the difficulty. Watching my father's decline is truly one of the hardest things I think I've ever gone through. No one imagines they will be in this position until it happens to them, I guarantee it. I never thought I'd be feeding my father or trying to explain to him where he was or who I was. I never thought I'd see him look so frail and old. He's turned into a different man.
(This is a diagram of the brain in different stages of Alzheimer's.)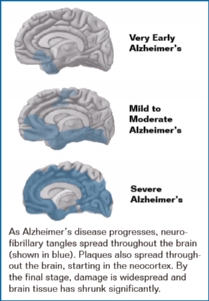 I've said it to my family and I'll say it to the world… If I die suddenly, you can be shocked, you can miss me, you can even be sad (for a little while) that I'm not around, but ultimately, I want you to be happy that I didn't die from a terrible, debilitating disease. I once saw a poster that said, "Getting old isn't for sissies." That is the damn truth.
Already, I've begun to prep my daughter on what I want her to do and don't want her to do should I follow in my father's footsteps. I don't want her feeling guilty, I want her to leave my care to professionals who deal with this kind of disease on a regular basis. I want her to live and enjoy her life to the best of her ability. Let's face it, I didn't do my kid any favors by making her an only child, but I'm sure she'll have a support system by way of cousins, family and friends. The fact that she's ultimately alone when it comes to the decision making is only another reason I don't want her to worry about me. Hell, I won't know the difference.
Anyway… that's been my life lately. How about you? How healthy are your parents? Have you reached the point where the child is taking care of the parent?