You Heard It Here: Happiness Is…
I'm going to be honest… as I mentioned to a twitter pal not so long ago, life keeps throwing hurdles and I keep jumping. Finding a "Happiness Is" has been a little tougher for me this month.
I've made myself focus on each day so I can face all the things happening in my life and since this past weekend was Father's Day and my little family took a much needed 2 day vacay to La Jolla, I can say that happiness is spending time with my awesome family.
There may be only 3 of us, but we are mighty. We talk, we laugh, we get along and we (usually!) respect each other. Happiness was also spending time with my big brother and his wife. Two people I love and don't get to see nearly enough.
I know my I've had past post where I've mentioned my gratitude for my husband and daughter, but somethings are so special that they deserve the shout. My family is one of them.
AND… because I just this evening received a couple of print copies of Against The Wall, I must also say that happiness is watching my dreams become reality. Not only do I have an amazing family, but seeing my story in print and knowing it's available for anyone who wants a copy has absolutely lifted my spirits in ways you can't even imagine! Those beach shots are gorgeous… but check this out…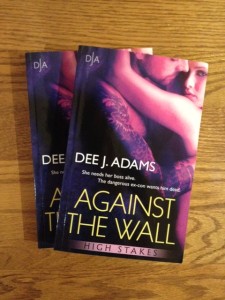 What about you? What's your happiness this month?