You Heard It Here: Opposites Attract
First I want to announce yesterday's winner of Danger Zone! Denise Z! Congratulations, Denise! I'll be contacting you!
I'm breaking the rules by posting today, but I figured release week called for a little excitement! Since yesterday was the normal Happiness Is post, today is a little bit meatier.
One of the reasons I loved writing this book was to show how opposites attract. Julie Fraser is mega-famous and desperately craves a regular guy who doesn't have an issue with her job or public persona. Troy Mills is a quiet P.I. who can't imagine himself with an A-list actress. She wants the solid relationship that dating a normal man can afford her. He wants the confidence and strength of a woman who knows what's important in life. Relationships and family. He doesn't expect to find it in a Hollywood starlet. Of course, it doesn't hurt that Troy saves Julie's life on more than one occasion, but it takes more than that for two people to click. Julie's need to make people laugh feeds into Troy's need to smile. Her positive outlook on life pulls him out of the darkness of his childhood. These two are perfect for each other.
(Okay, this shot has nothing to do with the book, but I couldn't resist dropping it in. These two are as adorable as Julie and Troy! In fact, that's what I've named them. LOL.)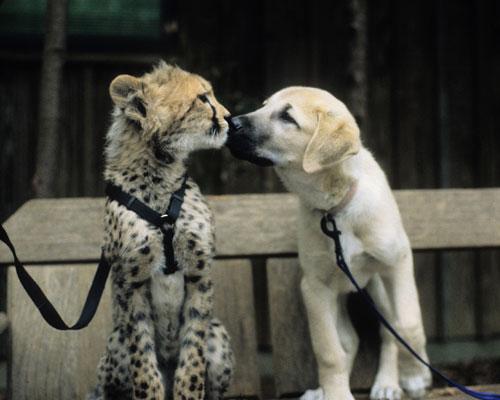 I sometimes wonder if opposites attract because a person sees in the other person what they wish they could be themselves. My husband and I aren't polar opposites, but he is very outgoing and adventurous. His constant need to experience new things has pulled me out of my shell dozens of times over the years and I've done things I never would've done without him. I think opposites tend to balance each other out in a good way as long as there is communication, respect and friendship in a relationship.
I talk about Julie's debut movie, Dangerous Race, (which is still FREE by the way!) quite a bit in Living Dangerously, since it was playing the role of Trace Bradshaw that brought Julie to super-star status. But the actual making of the movie occurred in Danger Zone. So, to celebrate Living Dangerously, I'm giving away a copy of Danger Zone (Adrenaline Highs #2) to one lucky commenter.
So tell me…why do you think opposites attract? And once they do attract do you think they can stick together?