You Heard It Here: Oops. I forgot.
Have you ever found something you didn't know you lost? I did the other day. And instead of sweeping it under the carpet and not saying a word, I decided to come clean.
What did I find? A card with my husband's name printed on the front. How old was it? I had no clue. What occasion was it for? Again, I had no clue. It actually didn't even occur to me to open it and see. I figured if it had my husband's name on it and it was sealed then it belonged to him.
So last night as we lay in bed before we turned out the lights, I handed him his card. I said, "Honey, I found this. I have no idea how old it is or what it's for so I'll guess we'll find out together."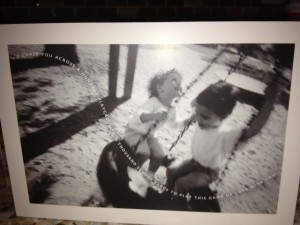 He opened the envelope and it turned out to be an anniversary card (above). "Happy Anniversary, honey!" I laughed and kissed him. (Even though our anniversary is early June.) He opened the card and I immediately went to my note at the bottom. "Happy fifteenth anniversary." FIFTEEN!! Hello, we've been married over twenty-four years! LOL. OMG. Talk about a time warp. We laughed. (Okay, I may have laughed a little louder.) It wasn't like he never got a card, because I used to be famous for planting cards in different places in the house for him to find. This one just forgot to get its place.
So, what about you? Ever find something you didn't know you lost? How did it affect you or anyone around you? Did you tell?