You Heard It Here: Happiness Is… New Releases!
I hope everyone is rolling into the Holidays in good spirit! I know I'm having a hell of time! (And I mean that in a good way!) I have so much to be grateful for including two releases. First, I am beyond thrilled to bring you Over the Top in just 2 days! Look for it December 22nd!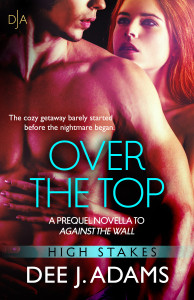 This is a prequel novella to Against the Wall and it's definitely much shorter than my usual length when it comes to romantic suspense. But I'm hoping it will tide you over for a little while until my next release in 2015. The best part is it's only 99 cents! Here's the blurb:
The cozy getaway barely started before the nightmare began.
Terry's dreams sometimes come true. The trouble is, this time she's had a nightmare—her fiancé, Jay, dead, their young daughter kidnapped. When events eerily unfold just like in her dream, Terry's sense of déjà vu increases. Terrified, she realizes she has to change the course of events, or her life will become a nightmare for real.
It took two years to get Terry to say yes to his marriage proposal, and just as they are set to celebrate their engagement, Terry reveals the secret she's been keeping from Jay for years. Her lack of trust cuts him deep and leaves him wondering if they can make a marriage work. But when someone seeks to destroy their family, Jay and Terry will do anything to stay together.
(December 22 is only days away!)
And don't forget Eight Nights with a Hero! Cold Nights, Hot Heroes and Eight Deadly Secrets! This is eight novels and novellas including NYT and USA Today Bestselling Authors! Grab your copy now for only 99 cents before it's gone!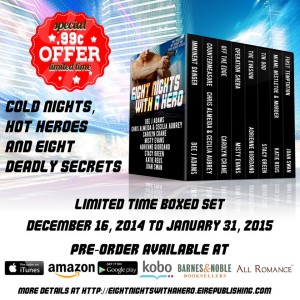 Just imagine, for almost $2.00 you're getting 9 books! Treat yourself to some fun romantic suspense!
Here's a wonderful season of peace and joy and very Happy New Year to you all!
Tell me your happiness this month!