You Heard It Here: Boxed Set!
This year has flown by, but it's not over yet! Eight Nights with a Hero ensures that 2014 will go out with a bang and introduce 2015 with just as much fanfare!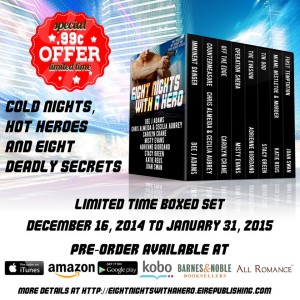 I'm so excited to be part of the Eight Nights with a Hero boxed set! In fact, this happens to be day 3 of the Scavenger Hunt and you could win a Kindle Paperwhite and signed books from the set, (including mine, Imminent Danger!) Head over to the Scavenger Hunt and start at the beginning! You have to go in order to get the clues correct.
99 cents for 8 romantic suspense novels and novellas including NYT and USA Today Bestsellers! Get it before it's gone January 31st!
Amazon US | B&N | iBooks | Kobo | ARe | Google Play | Amazon UK | Amazon AU | Amazon CA | Amazon DE
Tell me about the best thing you've ever won or the best bargain you ever got!