You Heard It Here: Hollywood Families
Before I get into this first blog of 2015, I want to wish everyone a Happy New Year! I hope this holiday season has been a great one for you and your family. And speaking of family, that leads me to this first of the month blog.
After over 25 years of working in television (which includes dozens of television shows), I can tell you that when you spend so much time on a set, the cast and crew can become your second family. I use the word "can" because it's not always the case. Everyone can go to a day job, but that doesn't mean those co-workers feel like family. Working on a set can be different though. I don't know if it's the long hours or the crazy situations we have to make work (for the camera), or if there's something in the Wheaties at craft service, but sometimes a crew just gels.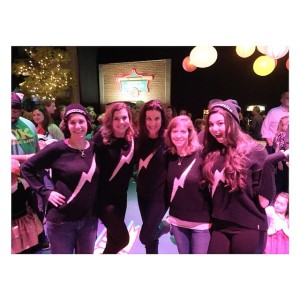 Here's a shot of the lightning bolt sweater club from our wrap/holiday party a couple of weeks ago. From right to left we have Kira, me, Lauren, Cortni, and Bonnie. I can't tell you how much I love all these ladies. Between us we cover a large spectrum on the show. From actor, dialogue coach, mom, set PA, and scripts. Not very often do all the departments hit it off so well, but that's not the case with our little show.
As exampled above, we have my family at The Thundermans. There isn't a bad apple in the bunch. I think this might be the second time in all my years and TV shows that I can say that about a show. There can be great groups – no doubt about it – but there's something about this cast and crew that is special. During the years, I've worked on a few highly successful shows (Roseanne, Grace Under Fire & The Big Bang Theory to name a few), but I usually experienced something I dubbed, "The Nasty Factor." I hadn't worked on a hit show that didn't involve someone nasty. Be it an actor or producer or crew member that made life difficult somehow. But there is no nasty factor on The Thundermans and we are a Nickelodeon hit. Yay us!
Something to be grateful for this year is family. Wherever they may be and whoever they are. If you love them and can give them a hug, do so. And if you can't, then lift your glass and toast them. They deserve it.
Now… Tell me about your family. Extended or not, how does it measure up? Any nasty factors or just a weird duck or two?
May you all have the happiest, healthiest and most successful year in 2015!