Life is one big gigantic roller coaster. We all go through good times and tough times. Lately, I've been spending time with my big sis. She underwent major back surgery a few days ago. Two surgeries that spanned two different days with a rest day in between. She handled the first surgery really well, with flying colors actually. I know she was in pain, but she got through it and seemed in good spirits as she awaited the bigger–more mondo–surgery. (I'm actually waiting in the surgical waiting room as I type this. She's halfway through a six hour procedure.)
Though I know she needs this surgery, I know this is going to be a really tough thing to bounce back from. The doctor is breaking her back in multiple places and lining it up correctly with the help of screws and metal and all things the go buzz at the airport. (She has scoliosis and her back had curved to the point of crazy proportions.)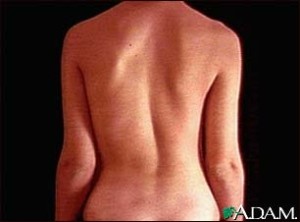 (BTW – This isn't my sis, but I think her back was actually more curved than this.)
Round 2 surgery took almost 8 hours last Friday and it was very grueling. Sis now has 2 rods in her back. The good news is she's a little taller. Haha. (I have to kid, because that's just what I do!) She's had multiple ups and downs since then with fevers and other issues, but I'm keeping good thoughts her recovery will continue in the right direction.
I know the next 6 months are going to be really hard on her and her family and I'm hoping/praying that everyone stays patient and takes each day at a time. I know how hard this is going to be not only for her, but everyone helping her.
(If anyone has any suggestions on how I handle going back to work in April, taking care of my sis and writing a book, I'd really appreciate it. Haha. Yeah… I'm serious, though.)
How about you? Have you been in the position to take care of a sibling or other family member? Or, maybe you know someone with scoliosis…? Let me know!
Thanks!
And thank you for all the good thoughts and prayers! They are all welcome and appreciated!