You Heard It Here: Hollywood Pain Part 1
You'll understand the nature of the title of this post after you read part 2 next month. But until then, I'll just go into part 1!
Some of you may be aware that people sacrifice for art. My sacrifice wasn't anything major, it just hurt a little. Since my small cameo appearance on The Thundermans aired 4 days ago I thought I'd give you a little behind the scenes scoop building up to the actual shooting of the scene. Now, if you didn't see it when it aired originally, you can probably find it in reruns. The show title is "Epic Failerina."
I appear after the midway point when Phoebe is performing in Swan Lake. BTW – Kira Kosarin is an amazingly talented young lady. A triple threat if there ever was one… but I digress.
So before when we began rehearsal for the week, our producers were talking about who to get for the role of the "Purse Lady." It was really just an extra roll, but it required special business and direction so that crossed a few union lines. Since I'm still a union member, I told them I'd be happy to rehearse the role to see if it worked and if it was as funny as they hoped. On our first producer's run-thru on Tuesday afternoon, I hit poor Jack (with a purse) so hard that the producers asked me to do the part for real. (I thought I'd just been doing it strictly for rehearsal purposes.) I was so paranoid about hurting Jack (the actor playing Max), that I pulled my punch a little on the next day's (Wednesday's) run-thru and it wasn't as funny. Lesson learned. Pain is funny.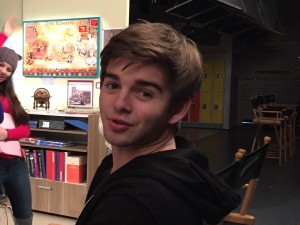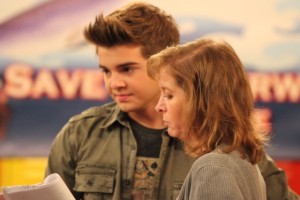 (Here are a couple of shots of Jack on set (and me working with him between scenes).
So my note for Thursday was "Don't hold back!" The purse they gave me had a metal label on the front and I asked the props department to remove it because I didn't want to hurt the poor guy. (At least not any more than I had to!) All week long I'd been using a much smaller bag which was easier to use, but for the shooting, I got a bigger bag to hit him with. As I think back on it now, the smaller purse was probably funnier and more "Ruth Buzzi-esque." Still, I had a great time and it will be fun to watch it play in re-runs.
By the time the week ended, my arm was crazy sore from hitting him all week in rehearsals and take after take after take when we actually shot it. All week long I kept asking Jack if he was okay and all week long he laughed at me because nothing fazed him. That young man is as sturdy as they come. (And also a triple threat, I might add!)
So that was my week. It was tons of fun even though it involved pain. <G>
Now you've heard this month's story of how I delivered pain, but next month you'll get the other side of the coin when I'm the one that receives the pain. Hope you stop in.
Today's question… Did you ever deliver pain, whether it was on purpose or accidental? How'd it make you feel?