You Heard It Here: Happiness Is… A Cover Reveal
One of the best parts of this month was being able to share the cover for A Little Danger. I have to say that March has really kicked my ass in a big way. As I type this, I'm feeling almost as wiped out as I have ever been. I'm still very grateful for a lot of things this month. First, I'm happy that my sister's back surgery was a success. Even though she's experienced a few set backs, I'm thrilled with her physical recovery so far.
The icing on the successful-surgery cake was the cover reveal! The log line of this book might be my favorite one in the series:
Some killers never die.
I think the other thing that tickles me about this story is the title. Since this is the only novella in the Adrenaline Highs, it seemed apropos to call it "little." Hence, you have A Little Danger. I know… I'm a goober.
Here's the cover again just because I love to look at it. Haha.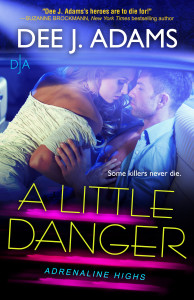 This is the blurb in case you missed it at the Not Your Usual Suspects Blog.
Elena Fraser is on her way to the airport to catch a flight to New York for the premiere of her daughter's movie. Before limo driver Bill "Fido" Fidelo can make it to the freeway, a 7.1 earthquake collapses the overpass above and traps them. With nothing but time between frightening temblors, Elena and Bill learn more about each other, including the fact they've lusted after each other for years.
Understanding they might not survive, Elena and Bill look to one another for solace and companionship. Bill tries to convince Elena that their seven-year age difference means nothing to him, and Elena soon realizes that life is too short to put off living.
The passion they discover is enough to torch the limo they're trapped in, but can rescuers save them in time, or will a final aftershock bury them before they have a chance to build a life together?
So that's my happiness this month. A sister who is recovering from major back surgery and the cover reveal for A Little Danger! What's your happiness?