You Heard It Here: Last Call
These past 4 weeks have been a fun, crazy time filled lots of highs! It was a pleasure to be included in Danger & Desire with so many amazing romantic suspense authors. I hope everyone grabbed it because it's an awesome deal. Where else are you going to find 10 full length romantic suspense novels by best selling authors for only 99 cents?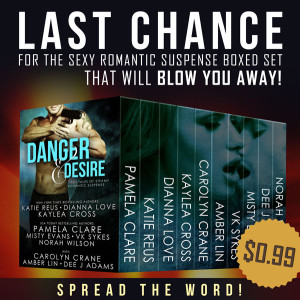 Danger & Desire will disappear in just days, but October is breast cancer awareness month and you can help out one my D&D pals by snapping up another anthology.
Buy Last Hero Standing for only 99 cents and help Pamela Clare at the same time! This collection is by best selling and award winning authors! You can't go wrong! All proceeds go to Pamela's medical fund.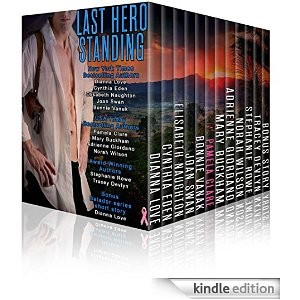 Amazon: http://amzn.to/1sWiLWe
Nook: http://bit.ly/1CGXHEr
iBooks: http://bit.ly/1x1qD6W
Kobo: http://bit.ly/1xEK48M

(I'll be talking about both boxed sets on Monday, October 13 when I'm on The Worst Show on the Web. Hope you can find some time to catch the show!)
My sister is a breast cancer survivor as are close cousins. Until we can wipe this disease off the planet, let's help the people who are going through it.
Has someone in your life dealt with breast cancer or any other kind of cancer?