You Heard It Here: Happiness Is
This month's happiness is a no brainer.
Release month for Imminent Danger has had my happy meter off the charts.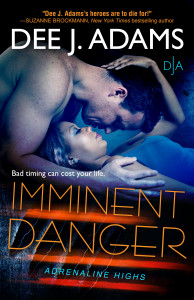 Today also marks the last stop in my blog tour! This last day encompasses not just one but TWO stops! That's right, you heard me… TWO blog stops to finish this tour with a giant flourish! The best thing about today is that I get to be – not only here at home – but at one of my favorite blogs ever…
So head over to JRS and comment for a chance to win a digital copy of Living Dangerously! See Abbey and Blake's first meet for yourself.
Speaking of Just Romantic Suspense, check out the surprise I have for you! Don't wipe your eyes… this is for real! September 16, 2014 is the release date and that also makes me very happy!!
Danger and Desire: Ten Full-Length Steamy Romantic Suspense Novels
Hold on tight for ten full-length books of intrigue and passion from New York Times Bestselling and award-winning authors. Men in uniform, sexy spies and pulse-pounding action fill over 850,000 words of this limited edition boxed set.
New York Times Bestseller Katie Reus – Sensual Surrender
RITA Award Winning Author Carolyn Crane – Against the Dark
USA Today Bestseller Pamela Clare – Skin Deep
New York Times Bestseller Dianna Love
Dee J. Adams – Against the Wall
USA Today Bestseller Norah Wilson
USA Today Bestseller VK Sykes – Lethal Confessions
Amber Lin
USA Today Bestseller Misty Evans
New York Times Bestseller Kaylea Cross
The individual novels cost over $35 in total and have more than 2,000 5-star reviews on Goodreads. This set is only available for one month, so grab your copy now!
So that's my happiness. Tell me yours! And remember, you're in the running for a digital copy of Living Dangerously!
Congrats to bn100 on winning the digital copy of Living Dangerously!