You Heard It Here: Hollywood Books
Happy September! It's my birthday month so I'm especially fond of it!
This month's story isn't so much a story… except it is. Kind of. But not really. It's really more of a book. But not really that either. How about I just dive in?
Since my tired old brain had trouble coming up with a new story (I usually try to dig deep and give you something from my past), I decided to give you a tidbit from my present.
First, I want to show you the next book on my TBR pile. Jock Itch.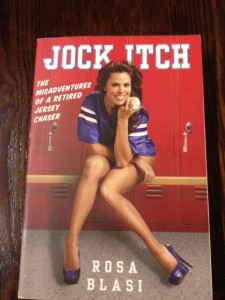 Jock Itch is written by the crazy talented Rosa Blasi. You might recognize Rosa from her six years starring as Dr. Lu Delgado on Lifetime's Strong Medicine or from any number of her many roles in movies and television. I know Rosa from The Thundermans, a Nickelodeon show where she plays Barb Thunderman, a retired superhero. Along with her retired superhero hubby, the two are raising their kids in the small town of Hiddenville.
When I first met Rosa, I'll admit I was a bit intimidated. The woman is a force. She's beautiful, self-assured and as quick-witted as anyone you'll ever meet. She's also in your face honest and not afraid to tell you what she's thinking. All traits I admire. Wait, did I mention how funny she is? She can make even the straightest line laugh-out-loud funny. Hell, she doesn't have to have words to be funny. She can do it with just a look.
I don't have one particular Rosa story to tell you. Although I can say that her zingers at work are often used in my "Overheard on the set" quotes on my FaceBook page. (Not all of them, but a lot of them.) I love that her filter has a few big holes in it. It makes her that much more unique. (And yes, funny!)
I already know I'm going to love her book because I'll be picturing her face and voice as I read. But trust me, you don't need to know her to enjoy her book.  She's as entertaining as it gets. On screen or on the page, Rosa will make you smile and probably laugh.
Jock Itch is at Amazon if you want to give it a try and I highly recommend it!
Before I forget… This month – September 15th – is the release of Danger & Desire!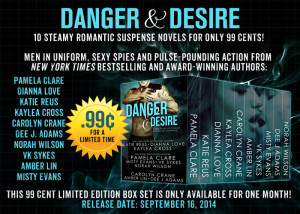 Hold on tight for ten full-length books of intrigue and passion from New York Times Bestselling and award-winning authors. Men in uniform, sexy spies and pulse-pounding action fill over 750,000 words of this limited edition boxed set. ONLY 99 cents for a limited time! Don't miss this great chance to read some awesome, steamy romantic suspense for a crazy low price!
So now, tell me, have you read any biographies that really caught your attention? I'd love to know!