You Heart It Here: Happy Days in Milwaukee!
A couple of weeks ago, I was lucky enough to participate in Barbara Vey's Reader Appreciation Luncheon. I was even luckier to have her three sisters sitting at my table for the afternoon. I met Lori, Chris and Sally last year at the same event and had a great time chatting them up one night at the bar, so I was thrilled to discover they had seats at my table this year.
One of the best parts of the whole trip was not having to wait to spend time with them until Saturday because the ladies kidnapped me (happily!) on Friday and gave me a spectacular tour of their great city. Those ladies made me feel so very welcome! And extremely lucky! How many other authors got a welcome basket from their readers along with a tour of the city? I'd venture to guess that I was the only one. And, yes, that choked me up a little, I'll admit. Below is the Art Museum, which sits right near the lake. It was a beautiful day! Well… beautiful for Milwaukee! You'd never guess that it's 41 degrees outside! I was very proud of my thin blooded self for braving the cold without a coat!
Below is the Bronz Fronz and the world famous Leon's with Sally's daughter Jess! (Don't tell… but we had dessert for lunch!)
And we're all dolled up for the luncheon on Saturday!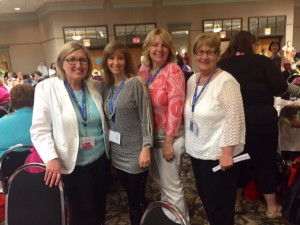 Here are the other ladies at my table… Donna and Teresa and Kathy and Bernice!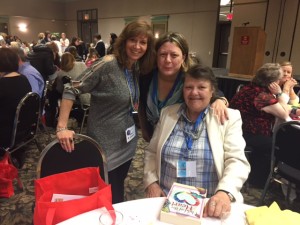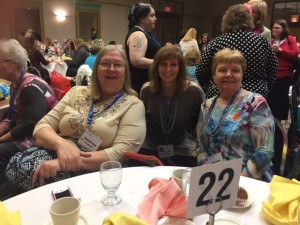 Here I am with the fabulous Damon Suede and Linda Howard!
Here's a shot of my table…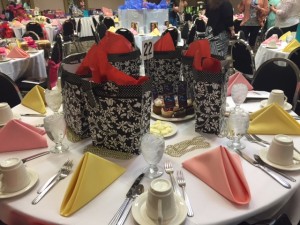 and my Friday kidnapping with my Milwaukee basket!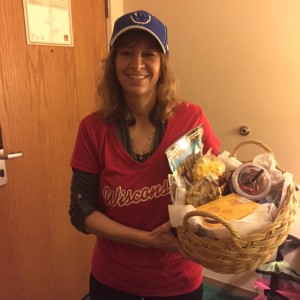 How about you? Ever had a very unexpected experience that you know will stay with you for a long time to come?