You Heard It Here: The Whole Deal
I wasn't sure what I was going to blog about today, but the answer came in the mail yesterday…and it was the PERFECT pre-birthday gift!
Drumroll please… I'm so happy to present my new bookmarks with the covers from all seven books in the Adrenaline Highs series!
I can't wait to start handing these babies out! The first opportunity will be October 17th at the Buena Vista Branch Library in Burbank, CA. I'll be signing copies of the latest – and last book in the series – Always Dangerous. Seriously… you don't even have to buy a book! Just come down to say hi, get a hug and a pretty bookmark! Hell… get two and pass one on to a friend!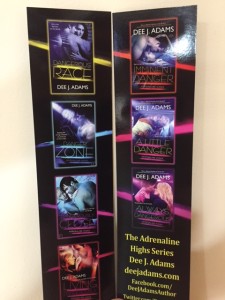 Here's the info for the Burbank signing:
October 17, 2015
Buena Vista Branch Library
300 N. Buena Vista Street, Burbank, 91505
1 – 4:00 pm
I'll be signing Always Dangerous! The final installment in the Adrenaline Highs series!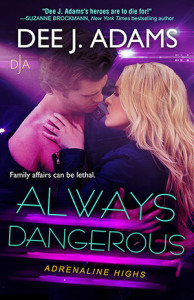 Leo Frost has lost his house, his car and possibly his acting career. Releasing an independent film is his only hope of paying for his sister's twenty-four/seven care, but he's got to finish it first. The last thing he needs is a curveball from the one woman who could break his focus with a look, a smile and the most unexpected news of his life.
Kim Jacobs wants it all—a career in a big city, a husband and a family, but a tryst two months ago with one of Hollywood's biggest stars leaves her pregnant. Knowing Leo doesn't want kids or a wife, Kim decides to make her own happily-ever-after with the help of a recent inheritance. All that's left is to tell the man and move on.
Kim's short visit to L.A. turns deadly with a series of mysterious attempts on her life. Suddenly Leo not only has to save his career, he has to find out who's trying to murder the lady who is stealing his heart. As an actor, danger was staged and nothing was at stake, but now the threats are all too real. If Leo wants a future and a family with Kim, he has to prove he can do more than play a hero onscreen, he has to be one in real life.
That's all I've got for today. Don't mind me while I stare at my bookmarks with a dopey grin on my face. But I would like to know what YOU think of them!