You Heard It Here: Hollywood Cover Model
This month's Hollywood story isn't so much a story. It's more of a "day in the life" kind of thing.
I love when my writing job meshes with my day job. It doesn't happen that often, but on the occasions when my world's collide, it makes me very happy.
For instance, I always notice when we have tall, dark and handsome men on the show. (They can be blond too… I don't discriminate!) It keeps my writer brain working even though I'm in Acting Coach mode. (I mean, I don't know about you guys, but I get inspired by handsome men. <G>)
Take for instance, Josh. He's our stunt coordinator. We needed an extra super hero for an episode at the end of last season and the producers asked if he'd wear the costume. The rest is history. Here's a pic of us, because I couldn't resist.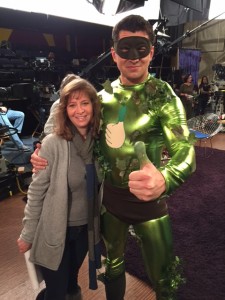 I asked Josh when I first met him if he'd ever modeled for a romance novel cover. He hasn't… but he said he might if asked. Yeah… you better believe I'm thinking about it. Haha.
Next, we have a man who guest starred on my show just last week. His name is Michael Foster and he HAS modeled for romance covers. Many of them. When I asked for a picture, he wanted to make it cover worthy so he insisted we strike a pose. How could I say no?
He thought it would be fun to make a mash-up of us along side one of his cover shots. Pretty funny. The best thing about both these guys is that they are two of the nicest men you will ever meet! You should totally follow Michael on twitter. he's @ironmikefoster. Tell him Dee J. Adams sent you. I'm thinking of asking him to hang out at my booth at my October signing. What do you think? Should I do it? Would you like to meet Mike in person?
Just a side note… for anyone who read Against the Wall, this is the height difference I imagined between Tanner and Jess. So even though I'm short, I'm still "normal" in the scheme of things. Just like Jess. And Michael – and Tanner – are just big men. Although Tanner isn't quite as big as Michael. I had him about two inches shorter and 30 lbs lighter. I guess I felt the need to put it out there since I had a few reviewers remark on the height difference. People of all shapes and sizes get together. I'm here to tell you anything is possible.
Back to the question… Should I ask Michael to be at my next signing in October in Burbank? Would it bring YOU out?