You Heard It Here: The Language of Woof
And I really do mean "woof". Not "love." I'm off-roading this blog so bear with me.
As many of you know, I'm an animal lover. (One of my favorite characters is Roamer from Dangerously Close. Roamer is a combination of my old dog Sam and my new dog Zach.) I've had dogs for much of my life and I adore their furry unconditional love. I love taking them for walks and watching them interact with the other animals in our neighborhood. (Here's a shot of current fur babies.)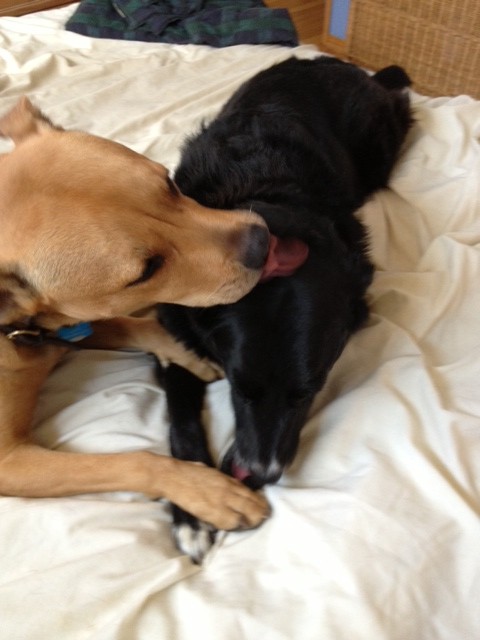 Like people, dogs all have their own personalities – of course – and it always fascinates me how they react to other animals. I've had my current dogs for almost 2 years now and got them when they were 7 years old. (Yes, they are rescues.) The Pit mix, Zachary, loves other animals. He's a big playful guy. The Border Collie mix, Elizabeth, is the opposite. She loves people and pretty much despises anything else with fur other than Zach (since they were raised together and Zachy takes excellent care of her as you can see from the pic above!). He adores her and is very much whipped as she is the Alpha dog. (I call her Queen Elizabeth because she rules the roost where Zach is concerned.) Okay, I got off track, LOL. So here's what I find interesting about animals, dogs in particular…
Every day when I walk the dogs we pass by the same houses and they interact with the same animals behind fences. I've been in my house a long time and neighborhood has changed a lot. It always make me laugh when the little Chihuahuas lunge and bark and in general try to attack my dogs (who are – I kid you not – 10x the size). My dogs get all riled up and bark/prance/dance to get at them as well. (Zach just wants to play whereas Elizabeth would like a snack.) There is also a small Cocker Spaniel that is very aggressive and lunges through his fence to try and get my dogs. I know for a fact that the most aggressive animals are pets of people not born in America. My neighborhood is fairly diverse. We have Hispanic families, Asian families, Armenian families just to name a few.
What's interesting to me is watching how my dogs interact with all these other animals. When you think about it, all these animals in non-English speaking homes "speak" a different language. There is no reason for them to know English since the inhabitants of their house speak their native tongue when at home, right? So when they bark at my dogs and aggressively attack the gate when we walk by, I wonder if my dogs are upset because they don't understand the other dog's language. Know what I mean? I certainly don't understand Japanese, Chinese, Armenian and my Spanish is a little rusty. These animals understand their owners commands in those languages so does that mean when they bark, they are barking in those languages? I kind of feel silly even bringing it up, but when you think about it, how else would they bark? Aren't dogs conveying certain emotions and language with the bark? So when my friendly, Zach, who really only wants to play with other animals, goes crazy at a little dog barking at him, I wonder if it's because of what the dog is "saying" or just the fact that Zachy doesn't understand what he's saying. Then I take it another step further and wonder if the particular language makes a difference.
What about you? Have you noticed if your animals react differently to other pets that speak another language? I'm so curious to know if I'm the only person to wonder this.