You Heard It Here: Hollywood Tabloids
I never really know which Hollywood story I'm going to tell until just before the 1st of every month when it's due. This month, because I'm so happy for George and his Best Picture Oscar, I've decided on another Clooney story. (Honestly, I had planned to space them out a bit more, but this is a good reason for one, so what the hell. <G>)
By the way, the Oscar I've pictured below is my Oscar. No, he's not real. He's kind of a stand-in Oscar that my husband gave me many years ago. He's my "Most Likely To Win An Oscar" Oscar. (Keep in mind that I was an actor for many years and my husband always thought highly of my abilities. LOL.)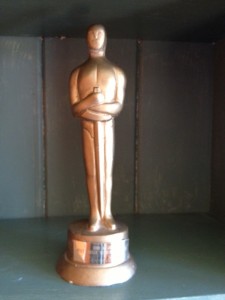 But, on with my story…
During the 2nd season of Roseanne, we had a bar set. The actual name of the "bar" escapes me (aargh), but we had a few tables pulled together since there were a lot of people in the scene. In those days I was working as Roseanne's dialogue coach and also stood-in for her or other guest cast if they hadn't been hired yet. On this particular day we were all seated around several tables, the whole cast and a few stand-ins. Roseanne was upset about the tabloids getting a hold of some story that made headlines and she was itching to find out who (from the set) had snitched this particular story. (And, no, I don't honestly remember which story this was since so many were leaked to the tabloids!) After she finished her mini-tirade the group got quiet (because, really, no one wanted to mess with Rosie when she was pissed off!). I happened to be sitting directly across from George and he looked up, said my name, and continued with, "I told you not to call the Enquirer."
Well, my head shot up, Roseanne's head shot up and everyone stared at me like I had actually made the call! Which I DID NOT DO! My mouth dropped open. My eyes bugged out wide and could barely get out the denial before he started laughing. And you know, when that boy laughs, his eyes get all crinkly on the sides and it's very disarming/charming. It's hard to be mad at him. (I think he knows this fact!)
Roseanne never said anything. I think she knew I didn't really call the Enquirer and (years) later we found out who DID call. Let's just say that was the beginning of the end of THAT marriage!
Anyway, I will never forget the smile – and MISCHIEF! – in George's eyes that day. He really is a practical joker and he has wonderful timing. He just waited until the room got so silent before dropping that bomb in a very serious voice. I still laugh when I think about it today. Of course I wasn't so much laughing THEN, thinking Roseanne might fire me. LOL. (That's a story I'll save for another day. Haha)
What about you? Were you the recipient of a practical joke or did you get someone good with a practical joke?