You Heard It Here: Release Date!
I'm thrilled to announce the release date for Imminent Danger! <drumroll here!>
August 4th, 2014 is the big day and it's just around the corner. It also happens to be my dad's birthday. He would've been 90 years old so it's kind of special to me to be celebrating a book birthday on the day. I'd like to think that Dad is looking down with a smile and that makes me smile.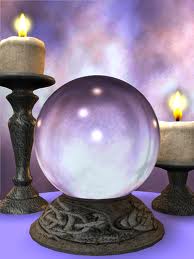 Now, this picture above… is a crystal ball and I'll tell you a little secret. Just don't let it get around.
I'm actually going to a psychic soon to see if I can connect with my dad. Sure, I get how you might be skeptical. I was too at one time. But the woman I saw many years ago told me a whole bunch of stuff. I took pages of notes. And I can tell you that more than 80% of what she told me has come to fruition. I kid you not. I went into the appointment very leery of what she might tell me and I was careful not to tell her anything about myself beforehand. She was amazing. I don't do this sort of thing often because in general I don't want any preconceived notions about what might or might not happen in my life. But connecting with my dad so soon after his death is important to me…especially since I know it's possible. (Yes, I said it. It's possible.) Call me crazy, but until you've gone to a good psychic or medium, then you probably won't understand what I mean. I guess you could say this visit is for my piece of mind. It might very well be my last visit to this lady, but I try not to say "never" only because… well… never say never! Haha.
But back to Imminent Danger! The next blog post will be the cover reveal! (It is my Happiness Is post and this cover gives me immense happiness so it seems apropos.)
Until then, tell me if you've ever seen a psychic or medium and did you believe them or did you think they were full of it? Did you get news that made you feel better or did you find it nerve wracking? I'd love to know!