You Heard It Here: Hollywood Surprise!
Happy New Year! Before I get into this month's blog, I want to wish you all a very healthy and happy 2014!
One of the best things about working in Hollywood is it's such a small town. (Since I'm one of those believers that it's a really small world, imagine narrowing it down to a city in Los Angeles…) After working here for so many years, I've met a lot of people. Moving from show to show and interacting with new casts and guest actors is truly as fun as it sounds. (Don't get me wrong – it can be nail-biting to not know when the next job will be, but after this many years I've learned to trust that work will come.)
The reason I bring this up is because it's such a kick to see someone I've worked with in a movie or TV show, especially when I didn't expect to see them. I've discovered it's almost impossible to watch anything on television or any movie I go to and not know at least one person in the cast.
My latest sighting was this past weekend watching Saving Mr. Banks. The actress playing "Dolly" (one of Walt Disney's secretaries) is an actor I worked with on a show called True Jackson, V.P. (for Nickelodeon). Her name is Melanie Paxson and she is one of the sweetest women I've ever worked with. She's amazingly funny, extremely talented and so nice. Easily one of my all time favorites. And in case you haven't seen it, Saving Mr. Banks was really fun! (Stay for the credits for a surprise I'll bet most people miss.)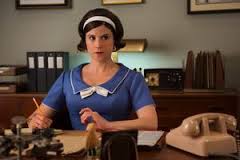 Here's a shot of her from the movie.
Though we're FaceBook friends and live near each other, I haven't seen her in about four years so when she popped up on screen, I actually yelped. (I tend to do that when I'm surprised to see a friendly face.) Yes, I was very embarrassed. It's just a knee-jerk reaction to seeing someone I hadn't expected to see. I suppose I'll only get worse with age as all the child actors I work with grow up and get more roles. I'll get to say, "I knew them when."
I just hope I get over that yelping thing in the middle of a crowd. I'm thinking I may need to start going to movies with duct tape over my mouth. What about you? Ever do something in the middle of a crowd that completely embarrassed you? Wanna share? I'd love to hear it.