You Heard It Here: Hollywood Years Roll By.
Since Saturday was my daughter's 18th birthday, I have birthdays on the brain. And birthdays mean growing older. When I think back to all the people I've worked with, young and old alike, I still get surprised as the years fly by. I didn't always work in children's programming, but I've worked with a lot of kids over the years.
Take for instance one of my first shows, Roseanne. Michael Fishman was all of seven years old when I met him. Now, he's thirty-three with two kids of his own. I know I should be over the fact that kids grow up, but apparently I'm not, so bear with me.
Almost eight years ago, I started work on a show called True Jackson, VP with a very talented cast led by, Keke Palmer, Ashley Argota and Matt Shively. I met these kids when they were thirteen, fourteen and sixteen years old respectively. Here they are then: (I know… small pic. Sorry. Pull out your magnifying glass!)

Now, they are twenty-one, twenty-two and twenty-four.
It's one thing to watch adult cast members grow older, because I'm growing older with them. But to watch my kids grow UP… grow INTO adults, is truly amazing. I love watching their careers blossom. Mostly, I love that they've remained such good humans.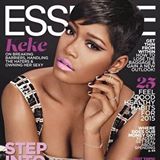 Keke broke all sorts of records last year. First by being the youngest person to host her own talk-show (Just Keke / BET) and second, being the first African American actress to star in Cinderella on Broadway.

Ashely's releasing her second album in a matter of days and I can tell you it's wonderful (because I was lucky enough to hear a few tracks)! Look for Limitless. You won't be sorry!

And Matt is producing as well as acting these days. I couldn't be happier for the three of them.
I see all their success and I wish the same for my daughter. Though she may not work in show business (which I'm very happy about), I can't wait to see where she'll land as she grows into adulthood.
What about you? Anyone in particular you're watching grow up/older and trying to wrap your brain around the change?