You Heard It Here: Hollywood Anniversary
Last week was a bit of a milestone week as far as my Hollywood life goes. It was 25 years ago that I started working as a dialogue coach on Roseanne. I saw in the news (CNN, I think) where they did a "Where are they now" segment. Through the years I've seen most of the cast on and off whether in a work situation or accidentally at a Starbucks. (Which, by the way, those accidental meets are always the best ones!)
Here's how I remember the cast. I love this pic.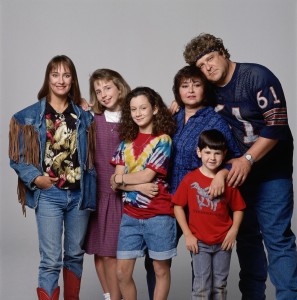 It's amazing to think that 25 years have gone by. The two youngest in this picture (Micheal and Sara) have kids of their own now.
I figured since I had a Roseanne anniversary of sorts that I'd give you one of my Roseanne stories…
I remember one day Rosie and I were running lines in her dressing room and we finished. She told me to stay and asked me to listen to something. I had no idea what she wanted from me, but I readily stayed seated and waited. She picked up some pages from a bag and started talking. Actually, she started telling jokes. Since I had been a huge fan of her domestic goddess routine, I laughed my butt off and really enjoyed her material. On occasion I'd smile and nod and she just kept going. At one point, I must not have laughed and she said, "Why didn't you laugh there?" She kind of surprised me with the question and I just told her the truth. I said, "I didn't understand it." She grabbed a pen and scratched out the whole joke. THAT was the moment I realized she was running her new material by me. She was using my reaction as a gauge for the new stuff. (Yes, I was so young/green/dense –pick one or pick all–that I didn't even realize what was happening until that moment.) Then of course, I panicked because I realized my reaction was sculpting -to an extent- her next stand-up routine.
Did I feel a bit of pressure… Um… YES!!! Because what if I laughed at something and the audience at the stand-up club didn't? OR what if I didn't laugh at something that might've been a great joke that everyone BUT me might've understood? I have to honestly say that I'm not sure I was a great audience after that, but she used me a few other times to test out her material. Since I was a genuine fan of hers, I usually laughed and I figured if she felt comfortable trying material out on me, then it was because she wanted my young/green/dense honest reaction. Haha.
What about you? Ever been in a situation where you felt something was expected of you and you weren't sure you could deliver?