You Heard It Here: How Many Books for What?
I'm interrupting my usual blog schedule for a special occasion…
The release of Danger & Desire!!
I'm thrilled to be part of this boxed set with these amazing authors! And really… how often do you get 10 full length, steamy, romantic suspense novels by NYT and USA bestselling authors for only 99 cents? This set is only available for one month! Grab it now before time runs out!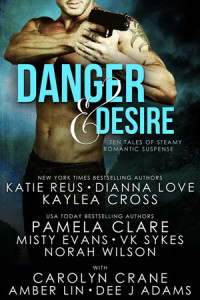 Hold on tight for ten full-length books of intrigue and passion from New York Times Bestselling and award-winning authors. Men in uniform, sexy spies and pulse-pounding action fill over 750,000 words of this limited edition boxed set.
New York Times Bestseller Katie Reus – Sensual Surrender
RITA Award Winning Author Carolyn Crane – Against the Dark
USA Today Bestseller Pamela Clare – Skin Deep
New York Times Bestseller Dianna Love –Deceptive Treasures
Award Winning Author Dee J. Adams – Against the Wall
USA Today Bestseller Norah Wilson – Guarding Suzannah
USA Today Bestseller VK Sykes – Lethal Confessions
Amber Lin – Giving It Up
USA Today Bestseller Misty Evans – Deadly Pursuit
New York Times Bestseller Kaylea Cross – Singed
And don't forget to stop into the FaceBook party today (9/15/14) from 9 am- 2 pm CST to celebrate release day! There's lots of prizes and giveaways! I'll be there at 9:30 CST. (That's 7:30 PST – my time!) Gift cards, books and other surprises! Stop in!