You Heard It Here: Hollywood: George Carlin Style
I have to come clean with this week's Hollywood story. It's not really mine. It's my husband's.
One of our favorite people in Hollywood was George Carlin. That man was a class act. My husband worked on his show, aptly named – The George Carlin Show. Also on the show: Alex Rocco, Paige French, Anthony Starke, Christopher Rich, Mike Hagerty and Susan Sullivan. (It was a great cast and a terrific show!)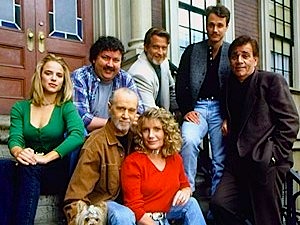 My husband, Sean, occasionally stood in for a guest actor or two before they got on set and he'd run scenes with George. George loved to tell him dirty jokes and since Sean was a big fan he was in seventh heaven.
Sean told me one particular time when they were doing a scene and George's wife came to visit. His eyes got big and he couldn't wait to finish the scene so he could talk to her. Sean described it as this: "He was so in love with her and you could see it in his eyes. She took his breath away." And this was after at least two decades of marriage…probably longer.
I remember one of the few times I visited the set and I met George's wife, Brenda. She'd brought their little white poodle. I think it was a Bichon Frise and they loved that little dog like a child. (I wish I could remember if it was a boy or a girl, but I don't. My memory's not that good.) That little fluff ball was so sweet. Anyway, George had a few comedy bits about dogs. He once said, "Life is a series of dogs." And for some people, I'm sure he's right. (For others it's probably a series of cats!) I just remember him cuddling this little dog and being so happy. I think he really did enjoy the simple things in life. He knew what was important. His family. His wife, daughter… and his dog.
I'll admit it… anyone who loves animals is a friend of mine.
A few weeks after the show ended, I was in Las Vegas with my sister and discovered George was playing at Bally's. I called my husband and he told me to call George. I thought it might be fun to surprise my sister since she was a big fan of his too, so I did. Though we had met several times on the set, I wasn't sure he'd remember me. Well, not only did he remember me, but he gave us comp tickets to his show that night and we had a great chat with him in his suite afterward.
Like I said, a class act.
So tell me about any class acts that you've met? Was there someone who lived their life in a certain way or treated you so well that it stuck with you for a long time? I'd love to hear about it.