You Heard It Here: Hollywood Expectations
It's been a while since I've given you one of my old Hollywood stories, so I thought I'd scour my foggy brain and see what I could come up with.
When I first got my foot in the door (working as a page at KTTV), I greeted the guests for a show called Hour Magazine. (I know I've mentioned this before, but many of my stories come from that time.) The guest on one particular day was Arnold Schwarzenegger. The Terminator! How excited was I to meet this guy?! So there I am, at my post at the double glass doors waiting for his arrival. I usually stood in the hallway waiting because the sun was pretty hot on any given day. I kept checking my watch because he was late. Usually the guests had a time frame so I knew when to expect them. Finally, I see a man walking very casually up the long driveway from the lower lot. He's holding his jacket draped over his shoulder like he's going for a stroll and he had no urgency at all, which made me think it wasn't Arnold. And, as he got closer, I realized he wasn't tall enough or big enough to be Arnold. But I kept my eye on him, because he was the only person in the vicinity and I was expecting someone.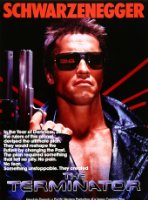 He got closer and closer and closer with my brain telling me it's not him, it's not him, it's not him. He's too short. Not broad enough, not buff enough. Not Arnold. Let me tell you… Hollywood is an amazing place where illusions are created. Arnold walked right by me before my brain finally jumped into gear and said, IT'S HIM, IT'S HIM! GET HIM! So there I am… chasing down the man I was waiting for who walked right by me, because I expected something different. I was waiting for The Terminator and I got a regular man. His height is listed at 6'2″, but I honestly don't believe that for one minute. Hey, maybe I'm wrong. But if he's as tall as 6′ even, I'd be surprised. Or maybe since I expected 6'7″ and I got 6'2″ that made the difference in my head… I don't know. I just know that I was mega embarrassed that I let him walk by me and I had to run after him to show him to his dressing room. He was very nice and if he thought I was a ditzy idiot he kept it to himself. Haha.
I learned a good lesson that day. Don't expect to get what you think you're expecting. It was a good lesson to learn too. (But I was much happier when I got what I expected!)
What about you? Did you ever expect to get one thing and when you got something else, it threw you off completely?