You Heard It Here: Happiness Is
This month, Happiness Is Thanksgiving dysfunction. Because really… let's face it. Who out there lives WITHOUT dysfunction? Anyone? I'd really like to know. Because as much as I like to think I'm normal and my family is normal…well, we're just… NOT.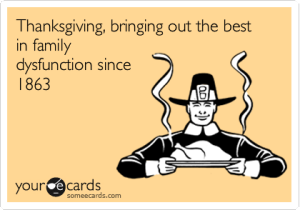 (This card cracks me up! It's perfect!)
We are as dysfunctional as it gets. I'm not talking about my household specifically, because honestly, I love my husband and adore my daughter and I think in general we all get along and we make an awesome family unit. I'm talking about my extended family. I do love them, but sometimes they drive me a little nuts. I'll admit that I spilled the whole Thanksgiving story on this blog then promptly erased it.
Really, you have to smile because the right kind of dysfunction is priceless. And there's nothing more that makes me smile than really good fodder for books. I guarantee you that this story will make its way into one of my books because it's too laughable to bury. (Not to mention the fact that I don't think my cousins have picked up one of my books nor have ever been here to my blog… and that's truly not bitterness, it's just a reality… but I digress…)
My happiness is three-fold this month because aside from the holiday dysfunction, I was thrilled that my husband is getting to direct the current Nickelodeon show I'm working on, The Thundermans. I'm so proud of him and the great work he does when he directs.
And my last happiness is remembering that one of the very favorite scenes I've ever written is a Thanksgiving scene in Dangerously Close, when Mel and Ashley have stuffed their faces, trying to make a dent in enough food to serve 8 people and getting to know each other. They solidified their friendship on that Thanksgiving and as crazy as it sounds I'm thankful that those two characters are kind of always with me this time of year. They make me smile.
What about you? Anything in particular that makes you smile during Thanksgiving? Any family dysfunction that's so priceless you have to laugh about it? Let me know! I need the company. <G>