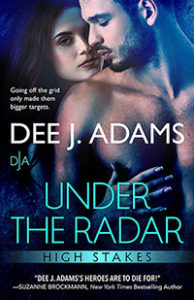 Two brothers. Two best friends. One robbery gone wrong.
With a court date looming, a near-fatal car accident, and a house invasion, the four surviving witnesses to an armed robbery know they are targets. In a desperate attempt to stay safe, they take matters into their own hands and go off the grid a week before the trial.
Danny St. John was stuck in a dark place of guilt and regret after a personal tragedy. On the run from violent criminals, he is forced to spend time with the one woman who makes him feel too much. Victoria Lopez needs to protect her heart, but she also misses the guy Danny used to be and thinks she might be able to bring him back. Now, evading gunmen together in Sequoia National Forest, Vic will risk everything to keep Danny safe.
Eric St. John isn't a big fan of his sister-in-law-to-be, Zoe Turner. Sure, she's beautiful, but also bossy and brash. When Eric and Zoe are forced to rely on each other for survival, he sees a side to Zoe he never anticipated, a side he definitely likes. But as the two grow closer, so do the men hunting them down.
Time nearly runs out as each couple must not only brave the perils of the wilderness and their growing feelings for each other, but also outwit their pursuers in a deadly game of cat and mouse.
See what reviewers are saying about Under the Radar!
Available now