You Heard It Here: The Good Life
You know how life is usually kind of boring? Most of us are in the same routine. Get up, have breakfast, go to work, have lunch, go home, cook/eat dinner, then go to sleep. Maybe throw in a Dr.'s appointment and errands and kids and grocery shopping and clean the house and so on and so on… You get where I'm going. We all have our routines. Even if our schedule occasionally changes, we still have a some sort of a routine.
So what happens when something really fantastic happens that busts us out of our routine? Whether it's a great vacation or some sort of surprise that lifts us up for a couple of days, those little routine busters are really good for us.
I bring this up because this past weekend I went to the Dave Matthews concert. But… I went as a VIP. Let me preface by saying I'm not usually a VIP!!! Yes, I've worked backstage before at some very cool events and I've met some awesome people, but that was all about working. Last Saturday night, I went to my first concert in a limousine! This ride was tricked out. It was very cool. I wish I had some better shots, but camera work is not my thing! Just imagine a large sleek, black van with seating for about 8. Imagine a flat screen at both the front and back of the van with a stereo system and your choice of drinks as you are entertained. Not too shabby.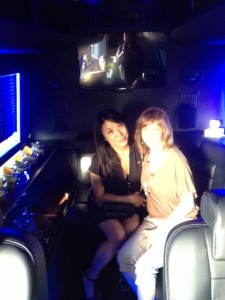 (Pictured with me is Grace Grant, fashion designer and wife to the man who built my new kitchen!)
The reason I was a VIP was because Rashawn Ross (who plays the trumpet in Dave Matthew's band) invited Gary Grant to see the show. (The link I've posted to Gary goes back about 16 years to when he played Wembley Stadium. If you watch about 50 seconds into the clip you'll see Gary playing the first licks of the trumpet for Rod Stewart. Very cool…) Gary happens to be a Grammy Award winning trumpet player and the father of my contractor. (The man who built my very beautiful new kitchen!) It's who you know, right? Honestly, I'm not sure why my husband and I were invited, but we were thrilled to be included.
We arrived at the Verizon Amphitheater in Irvine (about an hour and a half away from us) and were immediately ushered into dinner. Naturally, my timing stinks because it was after dinner when I went to the ladies room that Dave Matthews actually came in. He got his meal to go. Damn. But the man sure feeds his band and crew well. What a spread! And delicious too! Then Dave went on to give us a great show. So much fun!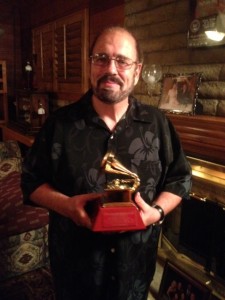 Here's Gary. I made him hold the Grammy so I could snap a shot. <G>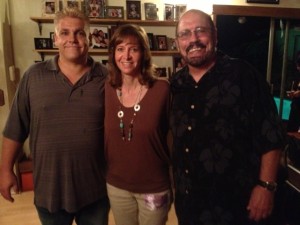 And here's Patrick and Gary. These two are amazing at what they do.
Anyway… that was my taste of the good life. A limo ride with some great people to a great concert. Speaking of the concert… here…I'll show you a pick I took.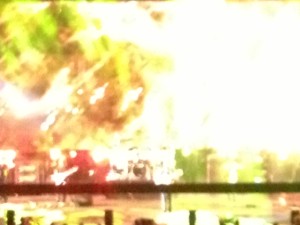 Our seats were directly behind the engineering/sound station and my seat was directly in front of Dave Matthews. That's him in the center. (Told you my camera work wasn't so good.) But how about that light show? (Did I mention I went home with a raging headache? Don't get me wrong… it was a great concert! I think I'm just getting old. LOL.)
How about you? Any awesome routine busters you can share? Or a taste of the good life?