Welcome to my website!
      I'm glad you stopped in! Check out my place! I blog 3 times a month so hop over on the 1st, 10th and 20th to see what's new. I plan to update more frequently so as soon as there is news, you'll hear about it here.
Great news! Living Dangerously won the Gayle Wilson Award of Excellence!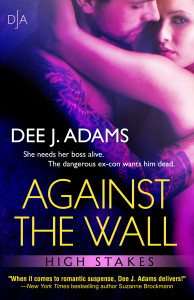 "An action-packed and pulse-pounding read!"
—- Tracy at One Good Book Deserves Another
Amazon, Barnes & Noble, iTunes, Kobo, Smashwords, ARe
The print version is also available at Amazon & CreateSpace!
I've been invited to Barbara Vey's Author Appreciation Luncheon! There's still room at my table! Come sit with me! I'm bringing goodies! Here are the details:
Crowne Plaza Hotel – Milwaukee Airport
6401 South 13th Street,
Milwaukee, WI 53221
(414) 764-5300
Click here for the Against The Wall countdown and blurb/excerpt.
Danger Zone is a winner in the JABBIC Contest! Both Readers Choice and Grand Prize!
Dangerously Close takes second place!

Here's the back cover blurb for Against The Wall!

Tanner Bryant wants revenge. After spending seven long years in prison for a crime he didn't commit, he's determined to even the score with the man who put him there. The only thing in his way is a slip of a girl in a big ass bind.
Jess St. John needs eight million dollars or her kidnapped family will die. Caught in a war between the mob and her boss, a corrupt film producer, she will stop at nothing to get the job done.
In a race against the clock, and a deal with the devil, Jess forms an unwilling partnership with Tanner to help find and free her family before it's too late. In return, she'll look the other way when her boss goes permanently missing. It soon becomes apparent that Tanner has more honor than he wants to admit and Jess finds herself falling for the gentle man beneath the rough exterior. But love and revenge run a close race and when push comes to shove, Tanner has to decide which one is more important.

Dangerously Close!