Welcome to my website!
      I'm glad you stopped in! Check out my place! I blog 3 times a month so hop over on the 1st, 10th and 20th to see what's new. I plan to update more frequently so as soon as there is news, you'll hear about it here.
Cover Reveal!
A Little Danger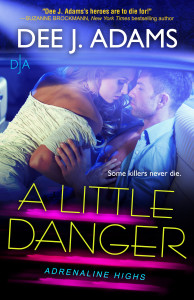 What do you think of this Adrenaline Highs novella cover? I love it!
Over the Top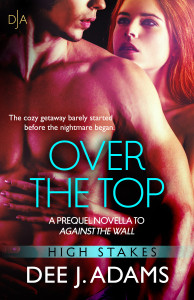 The cozy getaway barely started before the nightmare began.
Terry's dreams sometimes come true. The trouble is, this time she's had a nightmare—her fiancé, Jay, dead, their young daughter kidnapped. When events eerily unfold just like in her dream, Terry's sense of déjà vu increases. Terrified, she realizes she has to change the course of events, or her life will become a nightmare for real.
It took two years to get Terry to say yes to his marriage proposal, and just as they are set to celebrate their engagement, Terry reveals the secret she's been keeping from Jay for years. Her lack of trust cuts him deep and leaves him wondering if they can make a marriage work. But when someone seeks to destroy their family, Jay and Terry will do anything to stay together.
This is a prequel novella for Against the Wall.
The next best part is the price. 99 cents!
Imminent Danger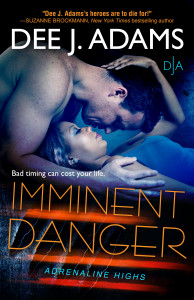 For Abbey Washington, dancing is more than a dream, it's a way to forget her past. But being at the wrong place at the wrong time makes her the sole witness to a stabbing and brings back horrible memories. Since the killers saw her just as clearly as she saw them, Abbey is now a loose end that needs to be tied up.
Blake St. John is working toward his PI license and hopes to find the man who hurt his brother in a kidnapping. He quit chasing his quiet co-worker, Abbey, months ago. But now that she needs protection, he takes on the role of bodyguard and all the feelings he tried to bury for her come back with a vengeance.
Abbey's past makes it hard to trust and an attempt on her life forces her to realize that time is running out as the killers get closer. Now, she must risk it all or face a life without the one man who showed her how to love.
Click here for the Countdown!
Great news! Living Dangerously won the Gayle Wilson Award of Excellence!
Against The Wall
"An action-packed and pulse-pounding read!"
—- Tracy at One Good Book Deserves Another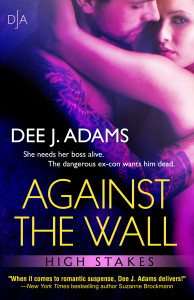 Amazon | Barnes & Noble | iTunes | Kobo | Smashwords | ARe
The print version is also available at Amazon & CreateSpace!
Click here for the Against The Wall countdown and blurb/excerpt.
Danger Zone is a winner in the JABBIC Contest! Both Readers Choice and Grand Prize!
Dangerously Close takes second place!


Dangerously Close!