Welcome to my website!
      I'm glad you stopped in! Check out my place! I blog 3 times a month so hop over on the 1st, 10th and 20th to see what's new. I plan to update more frequently so as soon as there is news, you'll hear about it here.
NEWS FLASH!

To celebrate the new release this month, Dangerous Race is FREE for a limited time at Carina Press and Amazon!
The countdown for Living Dangerously is here!
Only ONE more day!!
Every Monday-Friday a.m. and p.m. you'll get a snippet of the book until release day May 20! (I might even sneak in one or two extra along the way!)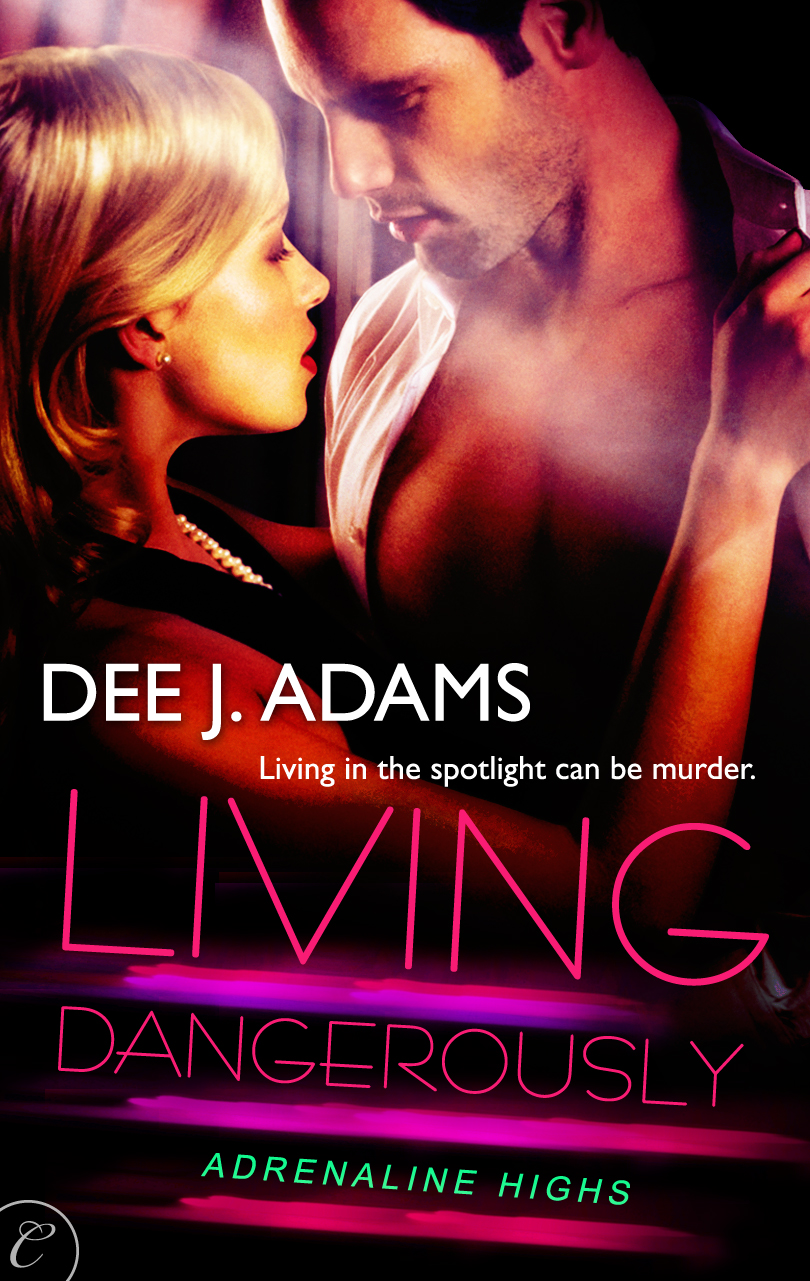 Don't miss the Living Dangerously Blog Tour!
Romance University – May 17
Just Romantic Suspense – May 20
Carina Press – May 22
Harlequin Blog – May 22
Not Your Usual Suspects – May 24
The Book Vixen – May 27
Night Owl Review  – July 5
Come see what Carina Press authors, editors & staff have donated to the Brenda Novak auction for diabetes! Check out the Adrenaline Pack from a few suspense authors! (Yours truly included!)
Danger Zone is a winner in the JABBIC Contest! Both Readers Choice and Grand Prize!
Dangerously Close takes second place!
With the new year comes a new book and Spring is going to be smokin' hot!

Here's the back cover blurb for Living Dangerously!

Julie Fraser, Hollywood's newest "it" girl, arrives on the red carpet to more than just the flashes of the paparazzi's cameras. A sniper's shots leave her bleeding and in the line of fire. Her life would be over if it weren't for the bodyguard who comes to the rescue–taking a bullet in the process.
Troy Mills, a P.I. working undercover, couldn't stand by and watch an innocent woman die, but now he's torn. How can he tell her that he's not a bodyguard, but a P.I.? A P.I. hired to prove that Julie is sleeping with the movie producer he's pretending to protect.
When a second attempt is made on Julie's life, Troy realizes that keeping her safe is more important than any supposed affair. And in order to keep her safe, he'll have to keep her close. But desire and danger are hot on Julie's heels. Who could have guessed that protecting an A-list actress would not only put Troy's life in jeopardy, but his heart as well.
Living Dangerously will be released May 20, 2013!

Dangerously Close!
Dangerously Close receives  4 stars from RT Magazine!
"Witty dialogue and unyielding suspense  make for another great story in the Adrenaline Highs series. The hero and  heroine are fully developed and emotionally rich, and the best part of the  novel is the developing relationship between them from strangers to friends to  lovers. Readers will enjoy spending time with these memorable characters."
*  * *
Check out this awesome trailer from Carina Press. Romantic Suspense all the way!

* * *
I'm thrilled to be part of  Just Romantic Suspense with some amazing authors! It's all suspense all the time! http://justromanticsuspense.blogspot.com/
Click here to see what people are saying about Dangerous Race.
See the Books page for more info..
Read an excerpt