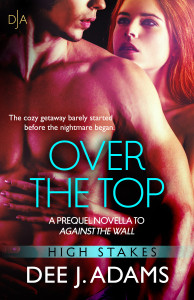 The cozy getaway barely started before the nightmare began.
Terry's dreams sometimes come true. The trouble is, this time she's had a nightmare—her fiancé, Jay, dead, their young daughter kidnapped. When events eerily unfold just like in her dream, Terry's sense of déjà vu increases. Terrified, she realizes she has to change the course of events, or her life will become a nightmare for real.
It took two years to get Terry to say yes to his marriage proposal, and just as they are set to celebrate their engagement, Terry reveals the secret she's been keeping from Jay for years. Her lack of trust cuts him deep and leaves him wondering if they can make a marriage work. But when someone seeks to destroy their family, Jay and Terry will do anything to stay together.
This is a prequel novella for Against the Wall.
Amazon | B&N | iBooks | Kobo | Amazon.ca | Amazon.co.uk
As a bonus to newsletter subscribers, a deleted scene from Over The Top will be provided in upcoming newsletters! Sign up now to see what you don't get to see in the novella! I'll give you hint. It's called An Over the Top Wedding!