Okay… the giveaway isn't here, but you're only a click away from finding it!
Not Your Usual Suspects is going all out for its 6th Anniversary and YOU have 14 chances to win a book from a favorite author!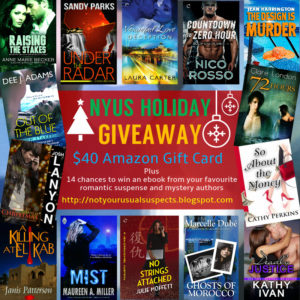 I'm thrilled to announce that Out of the Blue is in this prize package!
So click on this link: Not Your Usual Suspects
You've got until the end of this month, but don't wait! Enter now!
Happy 6th Birthday to NYUS! and Happy Holidays to YOU!
Now I'm curious… what's the best prize you've ever won?