You Heard It Here: On The Nose
It's the first of the month, so you know what THAT means… It's time for another Hollywood Story. This is one of my better ones and if any of you have read Danger Zone, it may sound vaguely familiar, because a similar accident happened to Ellie.
In 1994, I was working on a sitcom pilot starring Corbin Bernsen. (Some of you may remember him from L.A. Law…?) Anyway, we were in the middle of shooting the show for the audience and the director asked me to sit in the audience to fill an empty chair. (The sitcom was about a talk show host so it was kind of a show within a show. The director used our show's actual audience as the audience for the "talk show.") The stage manager yelled, "Places," so the cast scrambled to get to their spots. The sixteen year old actress playing Corbin's daughter had been behind the bleachers (where the audience sits) so when she heard the stage manager yell, she ran to get to her spot on the stage. Now imagine ME running to get to my spot in the audience per the director's orders. Well… you guessed it. We collided at the corner of the bleachers and she slammed me like a line backer. I caught her shoulder square in my nose. She rearranged my face so fast, I didn't know what hit me. (Okay, actually, I knew SHE hit me! LOL.) Impact actually spun me around and I heard an audible gasp from the audience members who were seated in that section along the bleachers. I reached into my pocket for a tissue as I came to a halt in front of her.  I tipped my head forward because I knew I was bleeding, But not until my palms were filled with blood did I realize the extent.
BTW… Here's a pic of the old nose. (Yes, this is me in the 80s. LOL.)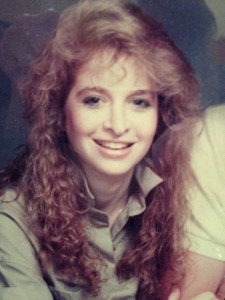 So, to continue… This poor girl is looking at me with the wide, terrified eyes of a teenager who knew she was in trouble. (Not so much for clobbering me, but because she shouldn't have been behind the bleachers while we were shooting.) She ran for the craft service area which happened to be not too far behind me. She opened the freezer, took out the first frozen thing she saw and ran back to me. The next thing I knew, I had a bag of frozen chicken wings on my face. I kid you not.
To this day, I have never seen more suits come out of the woodwork. I'm sure the production company thought I was going to sue them. The executive producer's wife happened to be an emergency room doctor and they called her from her seat in the audience to come check me out. She stood in front of me with a very bored look on her face and said, "Let me see it." I removed the frozen chicken from my face and waited for her reaction. She didn't bat an eye or move a muscle. "It's broken," she said. Then she turned around and went back to her seat. Nice.
I was causing quite a ruckus so they had to move me to continue shooting. (Yes, the show must go on!) I was escorted to the medic's office while I waited for my husband to come pick me up. I was so proud of myself. I hadn't shed any tears and just nodded knowingly as crew member after crew member snuck out of the stage and took turns visiting me as I waited — all wanting to get a peek at my new face. Every single one of them said the same thing. First, the look of horror on their face and then the, "Ooooh wooow. THAT is broken." I could only nod. And no, I hadn't looked at myself yet. I wasn't brave enough.
My husband showed up about forty-five minutes later and took me across the street to the hospital. As we started along the path toward the hospital, I finally lost my composure. I burst out crying like a baby and of course started fresh bleeding all over again.
After four hours in the e.r., a doctor pronounced me with a broken nose. (Like I didn't know it already. LOL.) I learned that there was nothing they could do at the moment. It took days to see a specialist and weeks until the actual surgery was scheduled to repair the damage. The worst part… I had my ten year high school reunion to go to. Ugh. (And, yes, I went with my giant broken nose.)
Eleven months after the surgery, I had so much scar tissue build up that I had to have a second surgery to remove the tissue blocking my nasal passage. After THAT surgery, I had no sense of smell.
So, after all that, I'll bet you're curious as to the name of the teenager who broke my nose. Brittany Murphy. I always thought I'd see her again, because Hollywood is a small town, but unfortunately she died several years ago at a very young age of 32. I still think about her and wonder if she ever knew what really happened that night. Once I was whisked off, I never saw the cast again. (I hate leaving things undone like that and not being able to say goodbye bothered me.)
What about you? Any fun broken bone stories? I'd love to hear them. (I have more, but none that are associated with Hollywood. <G>)