You Heard It Here: Valentine's Day
Since Valentine's Day is almost upon us, I thought I'd do some reflecting on my own love life. I've been happily married for over 23 years (and with my husband for more than 27 years). I'm lucky and happy to say that I got one of the good ones. He's very good at surprises…which works since I kind of love surprises. Haha.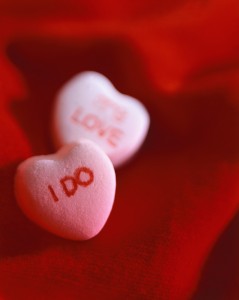 On more than one occasion, I've walked into a room (or apartment!) full of balloons. I'm talking a sea of helium balloons spanning the whole ceiling. He's done it for Valentines and birthdays alike. He's big on bringing home flowers just for the hell of it (and maybe because he loves me <G>). But what I love most about him is his devotion to his family. Even after a 14 hour day at work, he will call on his way home and ask if I need him to pick anything up on his way home. How can you not love that?
I remember our very first Valentine's Day. We had spent the previous holidays in NY where I'd met his family. He'd paid for my trip since I had zero dollars in the bank. But by February, I had saved a few bucks so I splurged and got him a gorgeous leather jacket. I was really thinking of it as a belated holiday present, but he got it in February. I was thrilled that he loved it. It was fun to surprise The Surpriser. Of course, then I put myself in a jam for all Valentine's Days to come. LOL. Nothing was going to top that.
I wouldn't trade my guy for anything. He's a definite keeper. I'd say "I do" all over again in a minute. Happy Valentine's Day on Thursday! Hope you get to spend some quality time with the one you love.
What about you? Any special Valentine story you can share?