You Heard It Here: Happiness Is…
I think I've mentioned I try to find happiness in the simple things. It makes life better. Sure, happiness is always the HUGE/GREAT things in life, but how often do really HUGE/GREAT things happen? Probably not as often as we'd like!
So, because this is my last post of the month, and my bit of gratitude for the day, I'm going with happiness is hope. At this moment in time, I'm on the verge of a few big things. Nothing I can share right this second, but very soon! So, I'm being happy in my hope and living in the joy of the moment, doing my best to avoid projecting or second-guessing.
Living in the moment and enjoying the possibilities… well… that's something to be happy about.
Oh… Happiness is also Snickerdoodle. Ain't she sweet.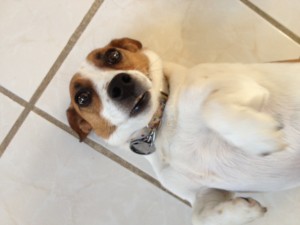 What about you? What's your happiness today?