You Heard It Here: Happiness Is… A Big Month!
First of all, I can't believe October is nearly over. Where the hell did this year go? It's crazy that time is just whizzing by so quickly.
But it was a very busy month so I get how it flew by. I'm thankful for a lot. I'm so jazzed that whole Adrenaline Highs series is out and I'm especially glad that I got to sign the last book, Always Dangerous, at a local book signing a few days ago.
I'm spectacularly glad that I finished the next installment in the High Stakes series during some time off from the day job. Out of the Blue will be coming to you next year! Wait until you meet Brendan St. John! He is very delicious!
Almost as delicious as Brendan is my cuddle monster, Zach. This is when he was complaining that we needed a bigger sofa because he just doesn't fit on this one any more. Ain't he sweet? I love this guy. He's always my happiness.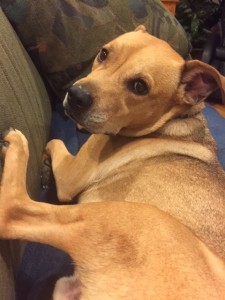 What about you? What's your happiness this month?