It's not an official blog day, but it is release day, so I thought a little something was in order!
I love this last Adrenaline Highs cover! And I loved this series and all the characters in it!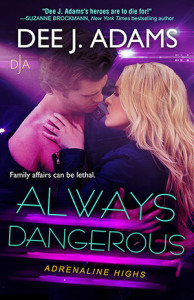 I thought a little trivia might be in order and for any of you who are into patterns like I am, you might find this interesting…
The first book in this series, Dangerous Race was released on 9/5. Last year's book, the fifth in the series, Imminent Danger, was released on 8/4. And this last book is released today, 10/6. Anyone else see the pattern? I know – it's true – I'm easily amused.
So that's it for the day! But links are on the home page if you're interested in picking up a copy.
Hope you all have a wonderful Tuesday!